Unfortunately for Boston Celtics rookie Kelly Olynyk, the most eye-catching stat on his cumulative preseason box score might be his foul total. The 22-year-old has been whistled for a team-high 25 infractions through six games (Jared Sullinger owns the next highest total on the team at 17) and Olynyk fouled out during both nights of Boston's back-to-back against the Nets and Raptors this week.
NBA referees don't let rookies get away with much and it's particularly difficult to hide when you're a 7-footer with flowing hair like Olynyk. Fortunately for him, the rest of his stat line reflects well. Olynyk is plus-39 in plus-minus over Boston's last three games and a big reason why the Celtics have been more competitive than they were at the start of the exhibition season.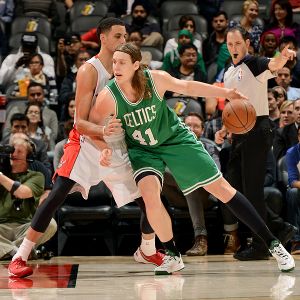 Ron Turenne/NBAE/Getty Images
Celtics rookie Kelly Olynyk against the Raptors.As Celtics first-year coach Brad Stevens noted earlier this week, "The thing about Kelly, he makes your team better when he's on the court. Sometimes that shows up in the box score, sometimes it doesn't. But all the minutes that he can gain in this setting, the better."
Olynyk is averaging 9.8 points and 4 rebounds per game while shooting 53.2 percent from the floor overall (and 57.5 percent on 2-point field goal attempts). Dig deeper and Olynyk is averaging 0.937 points per play, according to Synergy Sports data. That's a respectable number (65th percentile among all NBA players) and one that's only been diminished by Olynyk's turnover rate.
Those fouls and turnovers are correctable mistakes with a young player. Olynyk can take pride in filling up some of the team's unsung stat categories, such as leading the team in charges absorbed (6) and and-1's generated (4). After the Celtics traded up with Dallas to snag Olynyk at No. 13 in June's draft, the two biggest question marks were whether he could rebound at the NBA level and be a more consistent defender overall.
Olynyk grabbed a team-high nine rebounds during Wednesday's loss to the Raptors in his native Toronto. Olynyk wasn't a particularly efficient rebounder at the college level, but he's made that a priority playing for a team with virtually no size at center.
More surprisingly, Olynyk has more than held his own defensively through a six-game preseason glimpse. According to Synergy Sports data, Olynyk has allowed a minuscule 0.586 points per play this preseason. That ranks him in the 81st percentile among all NBA players this preseason and it's third best on Boston behind only Avery Bradley and Jordan Crawford. The usual caution here about small sample sizes, but Olynyk has done nothing but thrive in his NBA opportunities to this point.
Olynyk scored 13 points on 6-of-7 shooting on Wednesday night. He was a team-best plus-14 in plus/minus and his performance aided Boston's latest second-unit rally. All six of Olynyk's buckets came at the rim, but he has shown an ability to hit from all over the floor, only strengthening his offensive reputation after a dazzling debut at the Orlando Summer League.
In Toronto, Olynyk was mobbed by reporters as he returned to the area where he grew up. Veteran players probably kept his ego in check by throwing a few additional rookie chores his way after the game.
No harm, no foul in that.