WALTHAM, Mass. -- For the first time in 63 years, it is likely that the Boston Celtics will not have a formal captain this season. But just because first-year coach Brad Stevens prefers not to formally designate a leader doesn't meant that this team won't have one.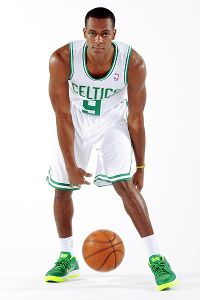 Brian Babineau/NBAE/Getty
Rajon Rondo isn't ready for game action yet, but he's ready to lead the Celtics.Stevens went out of his way Friday to again laud the guidance of Rajon Rondo, offering the latest vote of confidence for the rehabbing point guard.
"I don't know what the leadership roles were like last year, because I wasn't here," said Stevens. "The guy that's been the most vocal leader for us has been Rondo. I think he's done a really good job of it."
Rondo isn't expected back on the floor until December -- or whenever he feels his right knee is healthy enough to resume activity after undergoing surgery in February to repair a partial tear of the ACL -- but he's been an on-court presence for the Celtics every day since camp opened Oct. 1 in Newport, R.I.
So much was made this summer about whether Stevens and Rondo could co-exist, or how Rondo would lead without the security of Paul Pierce and Kevin Garnett around him. Could 36-year-old Stevens harness the mercurial point guard (who readily admits he's a stubborn player)? Days after being hired by the Celtics in early July, Stevens used his first bit of free time to trek from his native Indianapolis to Lexington, Ky., where Rondo was holding his annual summer camp. The two clicked immediately during a 90-minute chat, and silent-for-the-summer Rondo emerged at media day last month to proclaim that he and Stevens were "best friends."
Rondo might have been laying it on a little thick given all the over-caffeinated speculation, but there's an undeniable respect between player and coach and a clear desire to work together to lead the Celtics through this murky transition phase.
So even as Stevens has earned the trust and respect of his new players over the past three-plus months, it's been important to have Rondo here in camp to echo his coach's message. Despite being limited in what he can do on the floor -- participating sparingly in non-contact shooting drills and skeleton work -- Rondo is often right in the heart of the action when practice opens to reporters and always advising the players on the floor.
Just as you'd expect from a captain.
The Celtics closed out practice Friday with a combination shooting/running drill. Players shot elbow jumpers, then fetched the ball and ran the length of the floor before repeating the sequence. As his teammates stretched out their lungs, Rondo did his best to help them out, fetching rebounds beneath the basket and offering words of encouragement throughout the drill.
When he's been able to participate in those shooting games, Rondo has shown a ferocious competitiveness. Reporters in Brooklyn noted Friday how Garnett loudly celebrated a scrimmage victory in practice. Rondo isn't necessarily as exuberant (who is, really?), but it's clear he desires to win every single drill that he's a part of, and that rubs off on his teammates.
After Friday's practice, which closed with Rondo in his typical spot at center court with his teammates circled around him for stretching drills, Stevens gushed about Rondo's natural leadership qualities and his constant presence despite a demanding rehab schedule.
Stevens reaffirmed that, unless league rules require a captain, he'd prefer to not name one. That's just his style. During his time at Butler, he only named captains twice. In his first season at the helm (2007-08) he designated his five seniors (Julian Betko, Pete Campbell, A.J. Graves, Mike Green and Drew Streicher) as captains, and four years later he tabbed Ronald Nored -- whom he brought to Boston to be part of the player-development staff -- and Garrett Butcher to captain the 2011-12 team.
But Stevens firmly believes that leaders naturally lead and that there doesn't need to be a formal designation for everyone to know that Rondo is the one guiding this Celtics squad.
No, Rondo helped hang a banner that decorates a corner of the team's practice facility. He knows what it takes to achieve the ultimate team goal, the one that Stevens hopes is the end result of the process that he and Rondo are just beginning to navigate together.
The Celtics have had only 14 captains since 1950, headlined by extended reigns from the likes of Bob Cousy (1950-63), Bill Russell (1963-69), John Havlicek (1969-78), Larry Bird (1980-92) and Paul Pierce (2000-13). Legendary coach/general manager/president Red Auerbach was a proponent of spotlighting a leader, which explains why at least one player has held the captain designation in Boston for 63 years.
League rules state that a team can formally assign a captain (and another co-captain if it desires), but there is no formal mandate requiring one (and on game day, any player on the active roster can be named a captain). In the NBA, captaincy is largely superficial and some teams simply hand out their invisible C to the best player or the one that's been around the longest. In Boston, Rondo actually wears both those hats, but that's not the reason that -- if Stevens ultimately elected to designate a captain this season -- he would be the slam-dunk choice.
No, it's because his teammates respect him. From rookie Phil Pressey to fourth-year veteran Avery Bradley, the guards on this team have constantly pointed out how Rondo has guided them as they absorb the point-guard responsibilities. It extends off the court, where Rondo has quietly herded his teammates for gatherings (flag-football games, concerts, dinners), and younger players often note the fatherly way in which he watches over them and aids them through their NBA infancy.
Rondo is the leader of this team. That much is certain. He doesn't need a C next to his name to know it's on him to guide these Celtics through the uncertainty that lies ahead.