Asked Saturday about the reasons for Boston's inability to put together 48 consistent minutes this preseason, Gerald Wallace suggested some of his young teammates might not be familiar with the necessary level of intensity needed on the floor, dubbing the team's effort "lackadaisical" at times this preseason.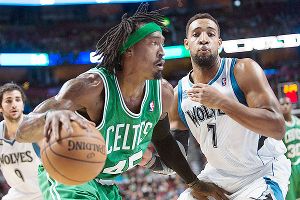 : AP Photo/The Canadian Press/Graham Hughe
Gerald Wallace drives Sunday night in Montreal.Lackadaisical is one adjective that will rarely be associated with Wallace. Slotted in a starting role on Sunday in Montreal, Wallace injected the first unit with a jolt of energy. He finished with a team-high 16 points on 6-of-12 shooting to go along with 3 assists, 2 steals and 2 rebounds while working up a regular-season sweat over 26 minutes.
Wallace couldn't save the Celtics from absorbing a 104-89 loss to the Minnesota Timberwolves at the Bell Centre, their sixth defeat in seven tries this preseason, but he gave another glimpse of the relentless energy and effort that he'll bring to the team during the 2013-14 season.
The Celtics actually have had to throttle Wallace this preseason, sitting the 12-year veteran on the tail end of their two back-to-backs. But coach Brad Stevens turned Wallace loose on Sunday, and might have found an intriguing lineup combination when paired with fellow swingman Jeff Green (a pairing that Stevens told reporters after the game he's likely to use more moving forward).
Minnesota lost Wallace on an easy bucket early and he only took off from there. Midway through the first quarter, he stepped in front of a pass intended for Kevin Martin and streaked the other way for a layup. On Boston's next possession, he got behind the defense and took an outlet pass from Avery Bradley for another easy basket. Late in the first quarter, the Timberwolves challenged Wallace to shoot and he buried a straightaway 3-pointer.
His best bucket of the night, however, might have come midway through the second quarter. Corey Brewer got a little overzealous trying to strip Wallace on the perimeter and the 31-year-old used a little rip-through move to shake him at the 3-point line before storming to the basket for a one-handed jam.
Wallace, who has pledged to be a leader of a team in transition, seems to be challenging his teammates to elevate their play. Having gone through similar rebuilding phases, most notably after being picked by the Charlotte Bobcats in the expansion draft, Wallace knows what buttons to push to get the most out of a young team. As the most experienced player on this roster, can he do the same in Boston?
Some Celtics fans groaned at absorbing the three years and $30.3 million remaining on Wallace's deal as part of this summer's blockbuster swap with the Nets. Being the last player to report to town before training camp left some wondering about his commitment to the team. But his former Nets teammates were emphatic that the man nicknamed "Crash" for his reckless style would quickly win fans over and his effort on Sunday only hammered that home.
Now the Celtics just have to hope that intensity rubs off on his younger teammates.
Read on for some other thoughts after Boston's loss to the Timberwolves, including how Vitor Faverani continues to impress, Avery Bradley's highlight-worthy pickpocket of Ricky Rubio, and Jared Sullinger's 3-point shooting.
* FAVERANI IMPRESSES: Vitor Faverani continues to make the most of his minutes. The rookie center registered eight points and three rebounds over 15:43 on Sunday, holding his own against Minnesota's talented frontcourt. Faverani has pulled down 28 rebounds over 96 minutes of floor time this preseason. The only players on the team with more boards have seen much more playing time in Jared Sullinger (32 rebounds in 144 minutes), Brandon Bass (44 in 153) and Kelly Olynyk (30 in 152).
* GRAND THEFT AVERY: Get the 2013-14 Rip List ready. Avery Bradley produced one of his famous backcourt pickpockets Sunday, taking the ball from Ricky Rubio and converting a dunk late in the first half. Bradley had just missed a 3-pointer and the Timberwolves were setting up for a final possession. Rubio was dribbling with his right hand at Boston's free-throw line when Bradley, approaching from the right side, lunged across Rubio's body and knocked the ball away. Bradley quickly corralled it and threw down the jam as an exasperated Rubio looked on.
* SULLINGER FIRES AWAY: Jared Sullinger missed three 3-pointers on Sunday and is now 2-of-15 (13.3 percent) beyond the arc this preseason. Sullinger worked on extending his range while rehabbing this summer and Stevens has implored him to fire away when open. Sullinger might simply need to be more selective on his attempts. Late in the first quarter, he got the ball two steps behind the arc on a little pick-and-pop that had Minnesota scrambling, but Sullinger hesitated a beat before launching a rainbow that was wide right. It's not fair to single him out on a night the Celtics were a gruesome 3-of-26 shooting (11.5 percent) beyond the arc with MarShon Brooks (0-for-6) and Jeff Green (1-for-5) among the other main offenders.