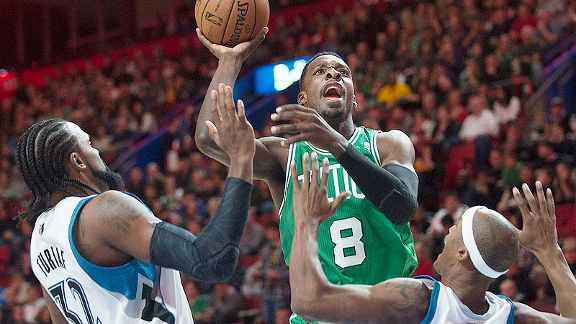 AP Photo/The Canadian Press/Graham Hughes
Jeff Green tries to muscle up a shot in traffic against the Timberwolves.Rapid reaction after the Minnesota Timberwolves defeated the Boston Celtics 104-89 on Sunday night at the Bell Centre in Quebec during exhibition play as part of the NBA's Canada Series:


THE NITTY GRITTY
Kevin Love scored a game-high 22 points to go along with nine rebounds, three steals, three assists, and a block, while Kevin Martin spearheaded Minnesota's hot 3-point shooting by connecting on 5-of-8 triples as part of a 21-point outburst as the Timberwolves raced away from Boston. Gerald Wallace started and brought a much-needed dose of intensity to the floor, pacing Boston with 16 points on 6-of-12 shooting with three assists, two steals, and two rebounds over 25:11. Jeff Green added 12 points off the pine for the Celtics. For Boston, it's the team's sixth loss in seven games this preseason.
THE GOOD
Wallace was phenomenal, leading by example with his full-throttle style. We also got a chance to see him mixed with Green and it worked well at times for Boston, causing matchup problems for the Timberwolves. ... The Celtics scored 50 points in the paint -- 56.2 percent of their total offensive output. For a team without a lot of pure size, that's an excellent number (especially against Minnesota), but their shooting outside the paint let them down. ... Kris Humphries returned after missing one game with a sore left foot and finished with nine points in 16 minutes. ... Even without backup point guard Phil Pressey, the Celtics turned the ball over only 12 times. ... Brandon Bass continues to quietly do his job, scoring 10 points and grabbing a team-high eight rebounds.
THE BAD
Boston's shooting was atrocious. The Celtics shot 38.4 percent overall (33 of 86) from the floor. ... And 3-point shooting was really criminal as Boston was 3-of-26 (11.5 percent) beyond the arc. Woof. ... Jared Sullinger missed three triples, airballing one in the first quarter. ... MarShon Brooks got 18 minutes, but missed 10 shots (4-of-14 overall). He finished with nine points and six rebounds off the bench. ... Courtney Lee didn't capitalize on the spot start, making just 1-of-4 shots for two points and finishing minus-16 in plus/minus. ... Jordan Crawford was a team-worst minus-19 with the second unit, spotlighting Boston's second-unit struggles.
LOOSE BALLS
Phil Pressey (left ankle) was available, but coach Brad Stevens had said he was likely to play it safe and Pressey did not play. ... Announced attendance in Quebec: 20,152.
WHAT'S NEXT
The Celtics wrap up their eight-game exhibition slate on Wednesday when the (Kevin Garnett and Paul Pierce-less) Brooklyn Nets visit TD Garden. Boston will then get a mix of rest and practice time to ensure they're ready when the regular season tips off on Oct. 30 in Toronto.