If we've learned anything about Gerald Wallace in the three weeks since he arrived in Boston for the 2013-14 season, it's that he's refreshingly -- and brutally -- honest.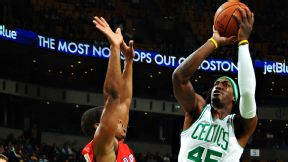 Steve Babineau/NBAE/Getty Images
Gerald Wallace shoots ... sometimes from the hip.Sitting at the podium at Media Day last month, Wallace patiently answered questions about his last-minute arrival before camp, the surprise factor in being included in the blockbuster Nets swap this summer, and what went wrong in Brooklyn last season. When asked about the challenge of starting over with a team in transition, Wallace didn't sugarcoat his new situation.
"A fresh start, it's kinda hard when you've been in the league 13 years, coming somewhere that's got to start all over," said Wallace. "But for me, I think it'll be a challenge, trying to turn this team around like I did in Charlotte, kinda help these guys out and push as far as we can here."
On Sunday, Wallace showed two different ways he can push this Celtics team. First was on the floor, where he shuffled into the starting lineup and provided a jolt of energy while scoring a team-high 16 points in a 104-89 loss to the Minnesota Timberwolves at the Bell Centre as part of the NBA's Canada Series.
But it was after the game that 31-year-old Wallace showed how he can bring veteran leadership to a fledgling team.
Wallace calmly but firmly scolded his teammates after the Celtics dropped their sixth preseason game in seven tries. He questioned the effort level of Boston's younger players, essentially imploring his teammates to play harder with a goal of being more competitive than the team has shown in the exhibition season.
"We're not playing with effort. Guys are out there being selfish," Wallace told reporters, according to the Boston Globe. Later he added, "I was always taught, you can't teach effort. You can't teach somebody how to give effort. That's easy. They've got that or they don't. The main thing about it is, either you want to win or you don't want to win. Effort isn't something you can learn or teach or give somebody or encourage somebody... We're professionals. So our main thing is, you should want to go out every night and win. It shouldn't be a question of the effort."
Listen, everyone knows the Celtics are going to struggle this year. They absolutely cannot use that as an excuse to stumble through the season. This team is trying to figure out who the building blocks for the future are and it should start with the guys willing to run through walls even when the odds are stacked against them.
Jeff Green echoed Wallace's message in the locker room when he told reporters, "We need to focus a little bit more now... because I think it's too late to blame the whole 'working out kinks' statement."
The Celtics have nine days before they trek to Toronto for the season-opener on Oct. 30. Boston players have dismissed the low-win total prognostications and rallied behind the idea that the Celtics have enough talent to surprise opponents. Heck, even Wallace said Saturday that Boston could be a "sleeper" team in the Eastern Conference. But right now this squad needs to be jostled from its preseason slumber.
After taking the Nets and Raptors to the wire, Boston watched Minnesota race away for a double-digit victory. The Celtics were focused on improving after dropping both ends of a back-to-back (with each game decided by two points). Instead, Boston again struggled to put together a complete 48 minutes and Wallace held the team accountable for taking a step backwards.
It's an encouraging sign to see the likes of Wallace and Green be critical (and Avery Bradley has been honest in his assessments as well this exhibition season). As Stevens settles in at the NBA level, it's important to have locker room leaders that can add credence to what he's preaching. What's more, it doesn't hurt to have a respected voice like Wallace play a little bit of bad cop by being the one to challenge the team.
Back on Media Day, Wallace talked about the difficulty in getting a young team to buy into that maximum-effort philosophy.
"I think the hardest thing about it is getting everyone to buy into the team system," said Wallace. "When you come in with a bunch of young guys who are fresh into the league, they are kind of into their own games. A lot of the guys sort of play for their own selves, for their next contract, instead of buying into the team system.
Wallace, who has three years and $30.3 million remaining on his contract, noted that he had strong leadership voices when he was drafted by the Kings in Chris Webber and Vlade Divac. After three seasons in Sacramento, Wallace was plucked by the Bobcats in the expansion draft, but had learned enough in his time to take Charlotte under his wing.
It took six years, but Wallace delivered the Bobcats to the playoffs. This time around in Boston, he wants the transition phase to be quicker because these Celtics have more pure talent than that Charlotte team and Wallace has less time left on his NBA odyssey.
"If I can come here and build this team, improve with this team, get us back into the playoff contention, and push forward from there, then I feel I would be more happy than being on a team that just won a championship," Wallace said last month.
After Saturday's practice, Wallace had insinuated that some of Boston's players were being a bit too 'lackadaisical' on the floor. He harshened his tone a bit after Sunday's loss. Now the question is how will the team respond?
We'll know by how competitive Boston is on Wednesday when the (Kevin Garnett- and Paul Pierce-less) Brooklyn Nets visit to wrap up the exhibition season. This is one of the first challenges that this young team will encounter this season and it's the type that, if they embrace what Wallace is asking them to do, the Celtics can grow.
Stevens noted in camp that he shuns gimmicky team-building activities because real growth occurs on the court, when players respond in the face of adversity. Wallace has given this team its first opportunity to come together.