WALTHAM, Mass. -- Gerald Wallace said that Boston Celtics coaches have "fussed at him" trying to get him to "relax and ease up" in the wake of his comments Sunday questioning the team's effort following a loss to the Minnesota Timberwolves in Montreal.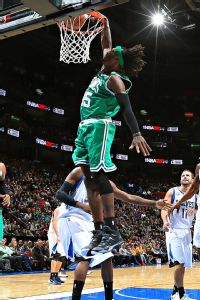 Dave Sandford/Getty Images
Gerald Wallace called out his team hoping to pull maximum effort from a young squad.Good luck with that.
Keith Bogans has played with Wallace for five seasons on three different teams and considers him one of the best teammates he's ever had. And when Wallace took the team to task for what he considered lackadaisical play in recent games, it hardly surprised Bogans.
"[Wallace is] going to give 110 percent every night. It's kinda hard to match his intensity every night, but at least he wants you to give what he's giving," said Bogans. "And if he doesn't see it, it's going to make him upset."
Added Bogans, "A lot of guys when they are young and they come into this league, they don't know what it takes. It's good to hear it from a guy that's been through it, that's been on good teams. [Wallace] know what it takes."
Wallace didn't back off his comments Tuesday, instead he suggested the preseason ended Tuesday for the Celtics and noted the team can no longer lean on the excuse that it's only exhibition play to justify their lulls in play.
And Wallace said he simply cannot endure a lack of effort.
"I'm getting fussed at by the coaches, they're trying to tell me to relax and ease up, but the main thing is, I want the guys to compete," said Wallace. "If we lose every game, if we lose all 82 games, but we lose them going down fighting and competing hard, then I can live with that. I just can't live with losing if we didn't compete [Sunday], we didn't give our best effort, and we just gave the game away. I don't want that for these guys and this team. I want us to come out and compete and whatever happens, happens at the end of the day."
Celtics coach Brad Stevens said that what Wallace told reporters after the game is the same themes that were discussed in the team's locker room. Stevens said he's fine with veteran players challenging their teammates so long as everyone is on the same page and moves forward together.
Echoed Brandon Bass: "I hope everybody got the message and, as individuals, come out and give maximum effort. That way we look good as a group. I don't think we should point the finger at anybody, I just think each individual should get the message from those guys, move forward, and hopefully we can stay together because we don't have any room to be having groups, cliques, or people feeling a certain kind of way. We've got to stick together."
The Celtics as a team responded Tuesday with what Stevens suggested was among their best practices of the season. And players acknowledged that Wallace's words resonated inside the locker room.
"If you look at that preseason game, especially against a team like that, there's no reason that they should look like they're playing harder than us," said Kris Humphries. "They're getting balls, or we're not getting back on defense. Everyone can see it. It's not a bad thing that [Wallace] talks about it because we've got to be accountable."
Wallace seems to understands what the Celtics are up against this season. With a young roster and a first-year coach navigating a transition phase, there's simply no margin for error in order to be competitive. Wallace dubbed Boston a "sleeper" playoff team on Saturday, but realizes that that's not a realistic possibility if the Celtics don't maximize their potential.
"I think we're laid back at times. We don't put forth the effort, offensively and defensively," said Wallace. "We've got to do things hard for 48 minutes. We don't have the luxury of being able to take a quarter off or take five minutes off. We don't have that luxury. We've got to be able to play and continue playing hard together for 48 minutes.
"We've got to understand that, we know it's a new coaching staff, we know it's a new system, we know they're putting in new systems, we're playing a new defense. It's the first time I've ever played defense the way coach Stevens wants us to play defense. It's a learning curve for all of us. But at the same time, we can still do it at 100 percent. You can still put forth the effort. Just because it's a learning experience, that's not an excuse not to play with effort."
Ultimately, Wallace said, these young Celtics will learn their lesson the hard way if they don't give maximum effort.
"At the end of the day, when they keep looking up the scoreboard and we're getting our [butts] kicked every night, some response has got to come," said Wallace. "The effort, it's something that everyone can control. Everyone can look at themselves in the mirror and do something about it. It doesn't take talent or skills to just bring effort, to just come out every night and compete and just give the will to win. It's not that hard."
Added Wallace, "The one thing about this league, it's 82 games. So this league, it gives you an opportunity to learn from those whoopings, correct those mistakes, and pick yourself up very fast."