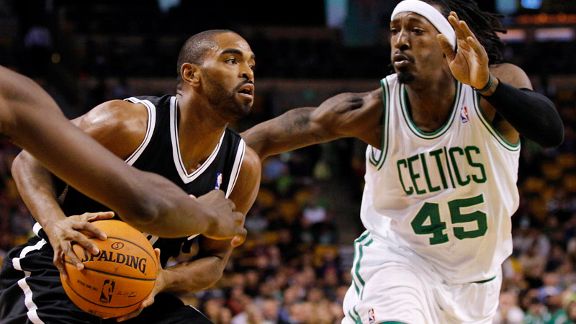 David Butler II/USA TODAY Sports
Gerald Wallace and the Celtics at work against the Nets at TD Garden.BOSTON -- Rapid reaction after the Boston Celtics defeated the Brooklyn Nets 101-97 in exhibition play on Wednesday night at TD Garden:


THE NITTY GRITTY
Rookie center Vitor Faverani, who was nearly scratched from Wednesday's game because of stiffness in his back, started and played a preseason-high 28 minutes while registering 15 points on 6-of-9 shooting with 7 rebounds and 6 blocks. Brandon Bass and Avery Bradley each scored a team-high 16 points and helped Boston fend off the Nets at the finish line. Tyshawn Taylor scored a team-high 15 points for the Nets.
THE GOOD
Faverani. He deserves this category to himself. The rookie big man was fantastic, particularly with his shot-blocking presence around the basket. Faverani made a strong case to be Boston's starting center sooner than later. ... Phil Pressey, who sat out the team's last game in Montreal, provided Boston with a second-quarter spark from the point guard position. He finished with four points and four assists and was a team-best plus-10 in plus/minus. ... Boston could have rolled over after a slow start, but scrapped back into the game and found a way to pull away late.
THE BAD
The Celtics did themselves no favors with a slow start. The Nets scored the first seven points of the game and led by double digits 4 ½ minutes in. ... Jeff Green suffered a bruised left forearm in the fourth quarter and had to take himself out of the game. He initially stayed on the bench, but soon retreated to the locker room with Dr. Brian McKeon. He returned later with a large ice wrap over the forearm. ... Green showed quality aggression (getting to the free throw line at times) and finished 2-of-7 shooting with 12 points and four rebounds over 24:30. He was a minus-10 in plus/minus.
LOOSE BALLS
Brad Stevens pledged to use at least the first half as a dress rehearsal for the regular season and indeed tightened his rotation. Boston played only 10 players. ... MarShon Brooks was a healthy DNP. ... Jared Sullinger (illness) was not with the team Wednesday. ... Paul Pierce and Kevin Garnett made the trip to Boston with the Nets, but did not play in Wednesday's game against their former team.
WHAT'S NEXT?
The Celtics wrapped up the exhibition season at 2-6. The team will now enjoy nearly a full week to prep for next Wednesday's regular-season opener in Toronto. Boston's plan is to get a mix of practice time and rest before launching into a dizzying stretch that will see the team play 19 games in 31 days to start the 2013-14 season.