LOS ANGELES -- The Los Angeles Lakers can blame one of the longest-tenured Boston Celtics employees as the reason their championship banners and retired jerseys are now covered up during Los Angeles Clippers games.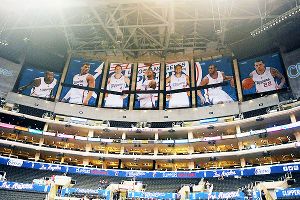 Evan Gole/NBAE/Getty Images
The Clippers put banners of seven of their players over the Lakers' 16 championship banners and 10 retired numbers during a preseason game Friday night.Last season, when the Clippers beat the Celtics 106-77 at Staples Center, Celtics trainer Eddie Lacerte, who is entering his 26th season with the team, pointed at the banners toward the end of the game. It was a moment that stuck with Rivers when he took the Clippers job.
"Last year when the Clippers were blowing us out and I was sitting there with Eddie Lacerte, our trainer in Boston, and he taps me on the leg and he says, 'Look at that,'" Rivers said. "I didn't want to look at anything at that point, we were literally down 30 points, and I looked up and you see all the banners. And he said, 'Man, I would never have that.' I thought, wow, he's right. So, again, the Lakers can blame a Boston guy."
Rivers said he has heard positive and negative reviews of his decision to cover up the Lakers' championship banners and retired jerseys with seven giant banners of Clippers players during Clippers games this season.
"I've had the gamut of feedback, I can tell you that," Rivers said. "Mostly positive, even from a lot of Lakers fans. The other day I was in the drugstore, and a Lakers fan said, 'I can't believe you covered up our banners but I was always wondering why you hadn't done it in the past.' It's the Clippers' court, and that's the way we feel. It's not a disrespectful thing at all. It's not intended that way at all. When we play in our arena, it should be about us and only us."