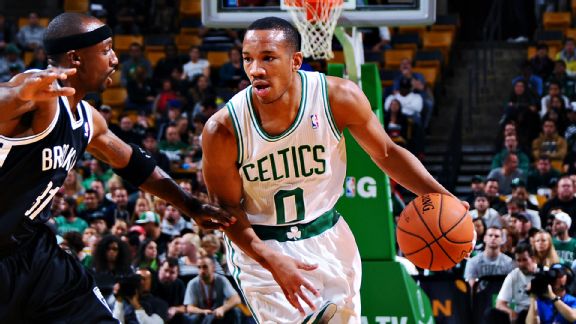 Brian Babineau/NBAE/Getty Images
Avery Bradley will lead the Celtics' offense without Rajon Rondo at the start of the season.BOSTON -- Listen to Avery Bradley talk this preseason and you can't help but be struck by how much first-year coach Brad Stevens appears to have rubbed off on him already.
Bradley quickly redirects individual praise to his teammates, rarely putting himself in the spotlight. When he does talk about his progress, he expresses a desire to simply be the best teammate possible. Bradley acknowledges that the Celtics will make mistakes this season, but stresses that the team simply wants to take steps forward each time it steps on the floor.
We're not certain what the exact makeup of Stevens' ideal player would be, but we're willing to bet that many of the characteristics would be found in Bradley. This year in particular he's been selfless, team-oriented, and leads by example with a tireless work ethic.
Stevens and the Celtics have thrust Bradley out of position on both sides of the floor already this season. A natural shooting guard, he's again being asked to aid ball-handling duties with Rajon Rondo rehabbing from ACL surgery. Even defensively, the NBA All-Defensive second-teamer has been shifted off the ball at times, asked to use his cover skills to blanket an opposing scoring threat rather than his typical point guard hounding.
Regardless of what he's been asked to do, Bradley has dutifully accepted his assignments. As Stevens gushed this week, "I've really enjoyed coaching Avery because he's been really receptive to being coached."
Said Bradley: "We're all open to learning because we know we all need each other. Me, being a four-year guy, I know that I have to adjust to the new system a little faster, being one of the leaders on the team."
Bradley is still only 22 years old and yet he is the second-longest tenured player for new-look Boston behind only Rondo. He admits he's not much of a vocal leader -- and maybe that will develop more in time -- but the way Bradley carries himself on the floor cannot be ignored by his teammates.
"Sometimes it takes the younger guys to understand that everything you do in practice translates to the game," said Bradley. "We've been doing everything from the beginning of practice hard. I have to lead by example, even the days you don't want to practice, [you have to] come in and go as hard as you can."
It's hard not to shake your head a bit when you hear Bradley talk about "younger guys." Kelly Olynyk is five months younger than Bradley and Phil Pressey is only three months younger -- both are rookies. Recently released undrafted rookie free agent Chris Babb was nine months older than Bradley. Beyond Olynyk and Pressey, only second-year big man Jared Sullinger (21) is younger than Bradley.
In a season in which expectations are low for fresh-faced Boston, this is an incredibly important campaign for Bradley.
In the fourth year of his rookie pact, Bradley is eligible for an extension before an Oct. 31 deadline, otherwise he will be a restricted free agent next summer. Asked last month about the likelihood of an extension before Halloween, Celtics president of basketball operations Danny Ainge said nothing was imminent and suggested the team might want to see how Bradley fits into Stevens' system before crossing that bridge. Preseason returns have been encouraging, but the Celtics must decide if Bradley is one of the cornerstones they'll build the next iteration of this franchise around.
Ainge admitted this week that he is talking again with Bradley's camp about a possible extension, but would not elaborate. Indications are that both sides have interest in making a deal; they've simply got to find a length and value that works for both sides (and that may be dictated in part by others in the 2009 draft class that are extended before Oct. 31).
Players extended so far have all been big-money deals, whether it was five-year max contracts for John Wall and Paul George; the four-year max for DeMarcus Cousins; or the $45-50 million, four-year pacts for Derrick Favors and Larry Sanders. Bradley would own a $3.6 million qualifying offer from Boston if extended next summer.
What's his value on the open market? That's hard to peg because Bradley has battled both injuries and inconsistencies. His defense alone makes him an attractive player, but it's the cloudiness around his offensive potential that makes it hard to hammer down a value. The 2013-14 season is a chance for Bradley to show that the fireworks we saw at the end of the 2011-12 campaign were not an aberration.
For his part, Bradley has said he ignores the business side and focuses on what he can control. Hammering out a deal would offer him some peace of mind, particularly after an emotional summer in which his mother passed away and he welcomed his first son, Avery Bradley III. As a restricted free agent, the Celtics run the risk of allowing another team to run up the price tag for Bradley's services, particularly if he puts together a strong campaign while elevating to a more prominent role.
In eight appearances this preseason, Bradley averaged 10.6 points per game on 37.8 percent shooting overall. He shot 43.8 percent beyond the 3-point arc, but struggled inside of it (though he suggested he used the preseason to experiment a bit more than usual and struggled to finish near the rim). As primary ball-handler, he averaged 2.5 assists per game and, despite allowing 1.8 turnovers per contest, Stevens praised the team's overall turnover percentage considering they were without a pure first-unit ball-handler.
Bradley must show he can be a more reliable offensive player this season, something that might not take hold until Rondo is back on the floor, creating easier opportunities for Bradley. This preseason, Bradley topped the team with a total of 110 offensive possessions finished, but averaged a mere 0.773 points per play, according to Synergy Sports data. That ranked him in merely the 32nd percentile among all league players this exhibition season.
Some of Bradley's struggles can likely be traced to being out of position. But what Stevens really appreciates is Bradley's willingness to do whatever is asked of him and providing that versatility on the court.
"You've got to be [willing]," said Stevens. "When you have elite ability, part of that is being versatile. Part of that is being able to do a lot of different things. He has that."