TORONTO -- Maybe he's braced himself for nights like this because Boston Celtics first-year coach Brad Stevens found himself focusing on silver linings as he broke down his team's season-opening loss to the Toronto Raptors on Wednesday night.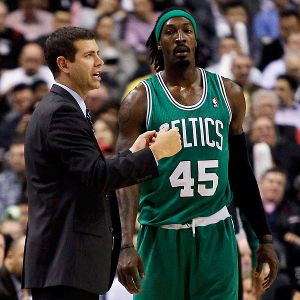 John E. Sokolowski/USA TODAY
Brad Stevens coached his first regular-season game on Wednesday night in Toronto."I'm not a guy that takes a lot of positives in losses, usually," said Stevens. "But I am able to take away some things tonight that we got better at."
Stevens understands that there will be a lot of nights that will follow the same script as Wednesday's game. His young team played inconsistently over 48 minutes, rallying from a big deficit to make a late charge, but made critical errors that ultimately forced it to endure a 93-87 loss to the Raptors at the Air Canada Centre.
"I walk out of here and, certainly I'm disappointed because you're in a close game and you have a chance [to win], but I walk out of here with some positives to build on," said Stevens. "We're going to get better at handling the ball, we're going to get better rebounding, we're going to get better at keeping our guys in front of us, [but] we fought back and competed."
The Celtics turned the ball over 22 times leading to 20 points; were outrebounded 48-33 overall, with the Raptors utilizing 19 offensive rebounds to generate a whopping 28 second-chance points; and Boston's defense struggled when guards allowed dribble penetration and forced cracks in Boston's help defense that Toronto exploited.
But Boston also rallied from as much of a 16-point deficit to make things interesting in the fourth quarter, saw Jeff Green score a game-high 25 points while being ultra aggressive, and generated enough positive glimpses that Stevens is confident they took a step in the right direction despite the final result.
Stevens himself navigated another hurdle. Try as he might to downplay it, this was his first regular-season game and he was in the spotlight because of it. The 37-year-old Stevens apologized to reporters before the game for not feeling any nervousness before tip-off, and after the game he was focused more on Game 2 on Friday night against the Bucks than Wednesday's loss.
"I found myself in the same mode that I am during any game that I've coached in before," said Stevens. "I'll go back and kick myself for certain things, I'm sure. [But it's] not any time for any of us to sulk right now."
Added Stevens, "I felt pretty good out there the whole night, at least I felt like I knew what was coming and going. At the end of the day, we didn't do everything perfectly, I didn't coach a perfect game, but I think we can all rest assured that we've got a team that will fight, and we've got a team that will compete, and we can just shore up a couple of those mistakes, maybe we can come out on the other end of it."
Read on for a few more postgame notes, including no silver linings for Brandon Bass and Kris Humphries; troubles on the glass; and delay of game penalties strike again.
* NO SILVER LINING FOR BASS, HUMPHRIES: Brandon Bass scored 17 points on 6-of-7 shooting with two rebounds and two assists over 32 minutes. He was a team-best plus-12 in plus/minus. Asked about his efficient shooting night, Bass offered, "It would feel a lot better if we got the win," he said. Kris Humphries, who took advantage of increased minutes with Jared Sullinger serving a one-game suspension, finished with eight points and a team-high nine rebounds over 21 minutes. Echoing Bass' sentiment, Humphries said: "At the end of the day, it's winning and losing in my eyes. It's the kind of team and the kind of game that we've got to figure out a way to win. I know it's the first game of the year, but I feel a little disappointed. I was hoping we'd get this. But we've got 81 more."
* TROUBLE ON THE GLASS: The Celtics don't have a lot of pure size, but Wednesday's struggles on the glass had more to do with cracks in the defense than anything else. Even still, those 19 offensive boards for Toronto helped the Raptors take 20 more field goals than Boston. "That's the key to the game," said Stevens. "Some of that has to do with size, [Jonas] Valanciunas and [Amir] Johnson are two big guys, [but] I think a lot of it had to do with quickness to the ball, and quickness in getting inside the defense. I mean, they drove us, they got to the commit, sometimes rightfully so and sometimes we overcommitted, and it's hard to block out when you're on the backside of that. We've got to do a better job of containing the ball." Said Humphries of the glass woes, "A lot of time offensive rebounding [occurs when] we go over to block a shot or help with a post-up or something like that and they get a run at the basket where a guard or a smaller guy has to try to keep them off the glass. It's a team thing. If we're playing help defense, it's got to be a team thing to defensive rebound. There's areas that we've got to improve on, and we're looking to do that."
* DELAY OF GAME REARS ITS UGLY HEAD: After a preseason filled with warnings about delay of game penalties, the Celtics got tagged at some inopportune times on Wednesday, giving the Raptors some free points (and stopping their own momentum) in the second half. "It's something that they've made sure they've let us know about," said Stevens. "We know that. And we have to take care of that."