One of the celebration shots from the Boston Celtics' 111-110 triumph over the Miami Heat on Saturday stood out. It's a picture snapped just moments after Jeff Green hit the winning 3-pointer over LeBron James. Avery Bradley, who was on the floor with Green, stopped him at the free-throw line to give a thankful squeeze. Boston's bench was at the opposite end of the floor, but the pair were greeted with a bear hug from rookie Vitor Faverani (AP Photo/Lynne Sladky):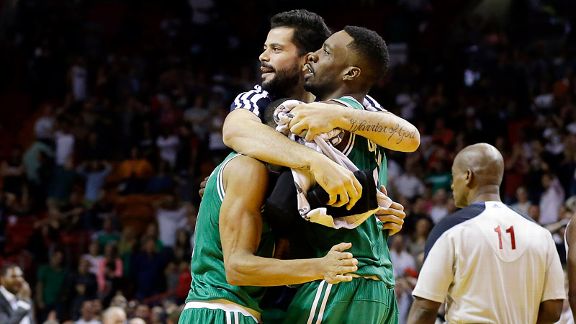 Here's why the photo resonates: Faverani was demoted from starting center to a reserve role against the Heat. After starting Boston's first six games of the season, Faverani played only 2 minutes, 41 seconds against Miami (though he gave Boston a brief spark, finishing a team-best plus-8 for his first-half cameo).
And who was the first player off the bench and into the celebratory fray when Green hit the winner? Faverani.
Last week, first-year head coach Brad Stevens talked about replacing Faverani in the second-half starting lineup with fellow rookie Kelly Olynyk. He noted how Faverani slung his arm around Olynyk and tried to pump him up as he prepared to take his spot.
Said Stevens: "I really like Vitor. Vitor is all in."
That echoes what Stevens has said in the past. Stevens noted how he invited Faverani out to dinner with his family upon the 7-footer's initial arrival in Boston this past summer. Stevens walked away gushing about the soft-spoken Brazilian, who stressed upon Stevens that nothing meant more to him than being a part of the team and winning as a group.
Faverani proved it on Saturday with his actions after the buzzer.