BOSTON -- Three letters greeted the Boston Celtics on their whiteboard after Wednesday's loss to the Charlotte Bobcats: DTR.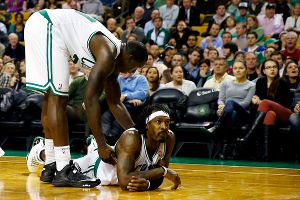 Greg M. Cooper/USA TODAY Sports
Gerald Wallace said the Celtics, who had won four in a row, were overconfident entering their game with the Bobcats.That's basketball shorthand for Dressed, Taped, Ready. It's also often shorthand for be prepared to work your tail off in practice.
Day-after-game workouts for the Celtics often have been light, particularly with the team navigating a minefield of an early-season schedule that features 19 games over the first 31 days of the season.
But even with a back-to-back looming to close out this four-game week, those three letters seemed to send a bit of a message to the Celtics players: You weren't ready on Wednesday night; come ready to work harder on Thursday.
An overconfident Celtics team, riding high on a four-game winning streak, too-cooled its way through Wednesday's visit from the Bobcats and endured a not-easy-on-the-eyes 89-83 defeat at TD Garden.
The loss provided a sobering reminder of how things tend to work with young teams: Fail to show up with the proper focus and energy level, and you can get beaten by anybody.
For Boston's divided fan base, Team Tank can rejoice at a bad loss to a below-average team (especially after watching all that college talent on Tuesday night), while Team Overachieve can cling to the idea that Boston played some atrocious basketball and still gave itself a chance to win in the final minute. But for the players, this was a somewhat friendly reminder that they are not nearly talented enough to just show up for games.
The buzzword on Wednesday was "lackadaisical" with former Bobcat Gerald Wallace suggesting his Celtics were a little too cheeky.