WALTHAM, Mass. -- Hey, Jared, how's your back?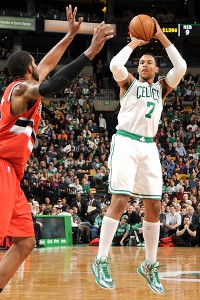 Steve Babineau/NBAE/Getty
Jared Sullinger has excelled in limited action, with a C's-best 22.6 PER in 19.7 minutes per game."I thought people forgot about my surgery; hardly anybody ever talks about it anymore," replied Boston Celtics forward Jared Sullinger, who underwent season-ending lumbar disk surgery back in February and worked hard to get back on the court for the start of his sophomore campaign.
The reason his surgery has become a mere footnote is because Sullinger is playing so effectively. The 6-foot-9 forward is averaging 11.3 points and 5.1 rebounds over 19.7 minutes per game in seven appearances.
Even as he works to ramp up his conditioning after a surgery that left him inactive for much of the summer, Sullinger has surprised even himself with how well he's started the year. He's a team-best plus-30 in plus/minus (Boston is minus-38 when he's off the court). It's just one of many numbers that reflect glowingly on his performance thus far.
"Honestly, I'm shocked the way I'm playing now," said Sullinger. "Coming off of surgery, to be able to do the things I'm doing. I feel pretty good about myself, as far as the movements."
Sullinger missed Wednesday's game against the Charlotte Bobcats with a bone bruise on his right knee, but hopes to be back in the lineup on Friday night when the Portland Trail Blazers visit. After what he's been through, the knee is really the least of his worries.
Go back and watch film of Sullinger last season and you'll see a man in pain. His back bothered him so much that he walked with a hitch and said he had virtually no elevation while leaping. The back problems started when he was a freshman at Ohio State and were ultimately enough of a worry for him to slide to the Celtics at No. 21 in the 2012 draft despite being considered a lottery talent.
As much as the idea of surgery pained him, cutting short his rookie season after 45 games, Sullinger had no choice once the back flared in late January, right after he had ascended to the starting lineup. The procedure has unlocked him.