BOSTON -- Jared Sullinger did his best to strap the rest of his Boston Celtics teammates to his surgically repaired back Friday night, but even one of his best performances as a professional wasn't enough to cool down the visiting Portland Trail Blazers.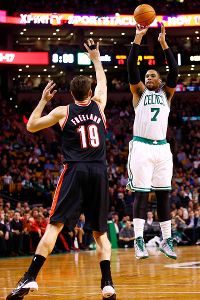 Jared Wickerham/Getty Images
Jared Sullinger keyed the Boston offense on Friday night against the visiting Trail Blazers.Sullinger scored a career-high 26 points on 11-of-18 shooting, with a team-high 8 rebounds over 36 minutes (the longest non-overtime appearance of his short career) in the 109-96 defeat at TD Garden. The second-year forward showcased his offensive arsenal, making 5 of 9 shots at the rim, then stepping outside for a pair of 3-pointers.
On a night in which the Celtics had few answers for slowing down one of the league's most talented offenses, Sullinger put forth the kind of effort that makes you wonder what his ceiling is. Sure, he missed a couple of makeable shots and he turned the ball over four times, but, playing through lingering soreness in a bruised right knee, Sullinger proved again that he's been Boston's most consistent player this season.
So we'll say it again: Sullinger might be the most entrenched building block on this team as it determines whom it will build around during this transition phase. The combination of a rookie contract and a rising ceiling makes Sullinger the ideal sort of player to construct around.
Sullinger, whose rookie season ended when he underwent back surgery in February, admitted it felt good to have the sort of game he did on Friday (particularly coming back after missing a game due to knee soreness). He topped his career high by 10 points and carried this Celtics squad for prolonged stretches.
But as Sullinger sighed, "It feels great; at the same time, we lost."
Sullinger remains unsatisfied with his conditioning, too, pledging to jump back on the arc trainer before Saturday's visit to Minnesota for the second night of a back-to-back set of games. Even he wonders what his ceiling is when he doesn't have to worry about his health or his wind.
Coach Brad Stevens wonders the same thing.
"That's a good question, because I think he's playing really well now," said Stevens. "We met [Thursday] and he said he feels like he's playing better than he's played last year, and ever before. So hopefully he can continue to enhance, and I think more than anything, play more minutes. He played [36] tonight, which is quite a bit of minutes, especially off the bench, so he played for long stretches, so that's probably a good sign."
Veteran teammates like Gerald Wallace and Courtney Lee agreed that Sullinger is such a post presence that he has the ability to be a go-to player in Boston's offense. Even after Friday's loss, Boston's ratings are still glossiest with him on the floor. In his 174 minutes of court time, the Celtics own a 105.7 offensive rating and 99.4 defensive rating. Those numbers flip-flop in the 306 minutes he's been off the floor, with the team's offensive mark (94) and defensive numbers (101.8) much more of an eyesore. What's more, Boston is plus-30 with Sullinger on the court, minus-51 when he's off.
After a big offensive night, Sullinger suggested he's more concerned about helping the team build consistency on defense. And the bottom line to him is the final result.
"We gotta get a win," said Sullinger. "Gotta get a win. That's the mindset. ... Every chance we get, we gotta get a W."
With Minnesota the Celtics' next stop, Sullinger was asked about Kevin Love's transformation into one of the league's elite players. Sullinger noted Love is somebody he "looks up to" and said he'd like to make a similar transformation with his body to further his development.
And, as Love is doing, Sullinger wants to shoot the 3-point shot with consistency.
"Gotta keep shooting with confidence," said Sullinger. "My brother, Julian, always tells me, if I'm going to shoot it, shoot it. Stop acting like somebody's looking over my shoulder if I miss. That's what I did [Friday] after I made the first one, just kept shooting."
There's no need to look over his shoulder. Sullinger has quietly entrenched himself at the front of the pack with these young Celtics.