WALTHAM, Mass. -- If you remember the Boston Celtics' double-overtime loss to the Atlanta Hawks last season, it's probably because that was the night that Rajon Rondo tore his ACL. It's also the night that might have defined Jared Sullinger's rookie season.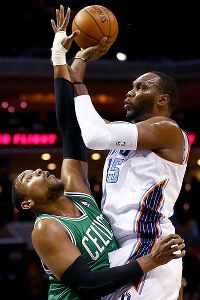 Streeter Lecka/Getty Images
Jared Sullinger's testing stretch has included a match-up with Charlotte's Al Jefferson.Sullinger was playing well in his freshman campaign and on the verge of ascending to Boston's starting lineup. But this wasn't his finest night. He battled foul trouble, struggled defensively and was held scoreless as the Celtics kicked away a big lead only to lose in the extra sessions.
In that second overtime, Kevin Garnett fouled out and Sullinger was inserted with the game hanging in the balance. Walking on to the floor, Sullinger got a glimpse of what the rest of the league thought of his defense.
"Al Horford kind of had it going and Larry Drew, who was the coach for the Hawks at the time, he pointed down and was like, 'Yo, go at him!'" said Sullinger, who had battled rookie whistles throughout his first season. "He kind of pointed at me and Al Horford came down and charged two fouls on me. And from there, it kind of clicked for me.
"I take pride in my defense. Even though some people don't think I play defense, I do. It's a challenge and I love it. I love taking that challenge and trying to stop [the opponent's] best player."
Sullinger's back balked two games later against Sacramento, ending his season as he underwent lumbar disk surgery soon after. Drew's declaration for Horford to attack Sullinger was one of the lingering memories that helped fuel him this offseason.
Even as Sullinger continues to work his way back -- he's still not satisfied with his conditioning -- the second-year big man has emerged as perhaps Boston's most consistent two-way player.
If another coach wants his center to attack him, Sullinger welcomes that challenge.
The past two weeks have featured a venerable who's who of opposing centers. In the past seven games, Sullinger has been tasked with defending Minnesota's Nikola Pekovic, Houston's Dwight Howard, San Antonio's Tim Duncan, Indiana's Roy Hibbert, Charlotte's Al Jefferson and old friend Horford in Atlanta.
If not for injury, Wednesday's visit from Memphis would match Sullinger against Marc Gasol. He's catching a bit of a break, but frankly, he's disappointed by it.
Bonus Link: Our friends at CelticsHub examine Sullinger's post defense.