BOSTON -- Jared Sullinger put the Boston Celtics on his surgically repaired back in the fourth quarter of Wednesday's visit from the Memphis Grizzlies and tried to carry them on a spirited (yet failed) comeback.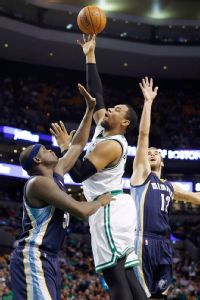 AP Photo/Michael Dwyer
Jared Sullinger scored 17 fourth-quarter points, but the Celtics couldn't catch the Grizzlies.Sullinger scored 17 fourth-quarter points on 7-of-10 shooting, while grabbing six rebounds and handing out two assists in 10½ minutes of court time. Boston surged within three in the final seconds, but Memphis made its free throws to escape with a 100-93 triumph.
Inside the Celtics' locker room, Sullinger lamented his team's slow start and its overall struggles on its home floor this season. Boston is now 2-5 at TD Garden.
"We've got to win more at home, that is what's going to get us into the playoffs," Sullinger said.
Playoffs?! (full Jim Mora voice here). You kidding me?
To some, Wednesday's game was just about the perfect script for the Celtics. Despite a slow start, Boston scrapped its way back from a 19-point first-half deficit, surged within a possession in the final minute, and, most importantly, lost.
With that, Boston's brief two-game winning streak was snapped and the Celtics fell to 6-11 on the season. Only six teams in the league have a worse winning percentage at the moment and Boston projects as a lottery team (despite the fact that the team remains just a single game out of the playoffs in a dilapidated Eastern Conference).
Sullinger has been downright defiant toward those who believe the Celtics would be better off losing games this season. He's argued that there's more than enough talent for this team to make a playoff push, even if the pundits give the team zero chance to succeed.
Given the state of the East, it's hard to deny Sullinger's playoff aspirations, especially as Boston keeps its head above water while navigating a brutal November schedule without All-Star point guard Rajon Rondo.
In fact, maybe the biggest thing working against those in Tank Nation is Sullinger himself. With each game, his ceiling rises a little bit more and he further asserts himself as Boston's best two-way player.