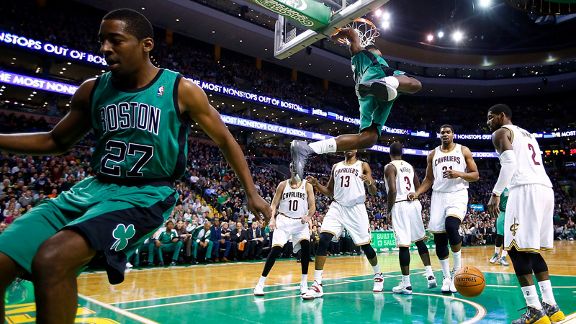 Jared Wickerham/Getty Images
Jordan Crawford delivers an alley-oop feed to Jeff Green on Friday against the Cavaliers.BOSTON -- If Boston Celtics coach Brad Stevens honestly knew that Jordan Crawford had registered a triple-double, he put on an Oscar-worthy performance trying to suggest the opposite.
Sitting at the dais for his postgame news conference, Stevens was asked about Crawford's 11-point, 11-rebound, 10-assist night that kinda sorta blended into the scenery of a jam-packed box score during Boston's 103-86 thrashing of the visiting Cleveland Cavaliers on Friday night at TD Garden.
"He had a triple double? Crawford did? Holy smokes," said Stevens, his voice jumping up an octave in disbelief. "I had no idea."
Suspicious media members wondered if Stevens was feigning disbelief.
"I had no idea," pleaded Stevens. "He had 11 rebounds!? Jordan Crawford had 11 rebounds?"
You seem surprised, Coach.
"Shocked," answered Stevens.
A follow-up question asked about how effective Crawford was.
"Shockingly effective," answered Stevens. "I don't know what else to tell you. He was good, he was solid. He didn't shoot it great, obviously, but everything else he did pretty well. It's good that our guards rebound. Our guards need to rebound for us to win."
Crawford quietly spearheaded Boston's first-quarter effort that tore the game open. Playing the entire first frame, he scored four points, grabbed four rebounds and handed out three assists (two of which were of the alley-oop variety) as Boston scored 18 of the game's first 20 points.
With 9:04 remaining, Crawford had only six points, nine rebounds and seven assists as he checked back into the game. Somewhere during the next 7½ minutes, he said he went up to Stevens and "whispered in his ear a little bit" about wanting to stay in despite the lopsided score.
Crawford grabbed rebound No. 10 with 5:36 to go, then had a three-assist flurry over a 76-second span to reach double figures there as well. Thus began the quest to reach 10 points with under four minutes to play.
Here's the curious part: With about two minutes to go and Crawford stuck on nine points, it sure seemed like Stevens called an isolation play to give him a shot at getting the necessary points (look at how Boston's players cleared out). Crawford missed and, at the last full timeout with just under two minutes to play, Boston subbed out its remaining starters while leaving Crawford in the game.
On the team's first offensive possession after that stoppage, players again cleared out to give Crawford room -- this time with Boston's entire bench, including Mr. Triple-Double Rajon Rondo, standing to see if he could get the points -- and Crawford tripped on a drive but got a fortuitous whistle that allowed him to cap his effort at the charity stripe.
His goal achieved, Crawford purposely fouled at the other end to allow rookie Phil Pressey to sub in.
Crawford finished 4-of-14 shooting (1-of-6 beyond the 3-point arc), but it's hard to argue with the team-best plus-24 in plus/minus. He clearly knew he was knocking on the door of the triple double, right?
"Yeah, my teammates were telling me," said Crawford. "I figured the game was kind of in hand. They don't come around too much."
A reporter asked if it was the first triple-double of his career, and Crawford quickly noted it was his third. Players don't forget that type of achievement.
Crawford said he heard the air come out of the arena when he missed the first 3-point attempt with a chance to cap the triple-double. "That was cool," he noted. So was getting the free throws. "They were fouling me all game. I was happy to get some free throws," he added.
Told that his coach was surprised to hear about his triple-double, Crawford smiled.
"I don't know," he said, eliciting laughter from the media.
So what does this effort do for Crawford?
"Just continue to play team ball, get my teammates involved," he said. "When they're playing good, it's easier on all of us."
Somehow that transitioned to a quick chat about his nickname, "Steez." Crawford protested while noting, "I don't go by Steez. That's what they just started saying in the media. I don't really go by it."
But pressed on what it means, he offered, "'Swag' is kind of lame, so 'Steez.'"
On this night, Crawford and his triple-double had plenty of Steez.