BOSTON -- Boston Celtics coach Brad Stevens, basking in the glow of his team's most complete effort and a lopsided 103-86 triumph over the visiting Cleveland Cavaliers, was asked if he had caught a glimpse of the Gino Time celebration video that ran with two minutes to go.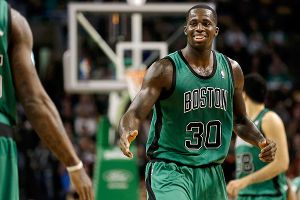 Winslow Townson/USA TODAY Sports
Brandon Bass got in on the Celtics' 11-of-23 3-point barrage, banking home his first career triple."What is it?" asked an amused and confused Stevens.
Media members did their best to quickly explain the American Bandstand mash-up that features a smooth-grooving, bearded man in a Gino Vannelli T-shirt as the Bee Gee's "You Should Be Dancing" blares. It has served as the team's victory cigar of sorts since before the Big Three era.
Some wondered if it might have been traded to Brooklyn as part of the summer blockbuster, particularly given the affection owned for the clip by Kevin Garnett (who should be credited with turning Gino Time into a phenomenon). But there it was on Friday night, bringing the Garden faithful to their feet with Boston out front 101-80 with 1:56 to play.
Stevens apologized for not knowing what was being referenced and suggested that maybe his kids had caught it. It was further explained that it almost exclusively runs during the final full timeout of lopsided victories, of which there, obviously, have been none of this season at TD Garden.
"Do you think that maybe nobody thought we'd have a game out of reach?" Stevens asked with a smile. "I don't know."
For at least one night, these transitioning Celtics could do no wrong. Jeff Green put on his aggressive shoes and scored a season-high 31 points. Brandon Bass banked in the first 3-pointer of his nine-year NBA career. Jordan Crawford asked for a little trash-time action and completed the third triple-double of his career.
Boston scored 18 of the game's first 20 points and put the game on cruise control. Sprinkle in the sweet-shooting exploits of Avery Bradley (21 points on 9-of-11 shooting overall) and Jared Sullinger (12 points on 4-of-5 shooting beyond the 3-point arc) and it all added up to the first Gino appearance of the season.
Sure, it was a bit bizarre without Garnett, a towel draped over his head, pointing up to the video screen with each appearance of the man nicknamed Gino, who has spawned everything from T-shirts to hats to Superfans with his moniker. Celtics fans still roared each time the man's long legs and jointless arms grooved for them.