WALTHAM, Mass. -- The Boston Celtics and Brooklyn Nets are tangled like a strand of old Christmas lights this season given their summer dealings and especially with the first matchup of the regular season coming up next Tuesday at the Barclays Center. But apprised that Paul Pierce had suffered a broken hand that will sideline him for 2-4 weeks (forcing him to miss next week's tilt), Jared Sullinger politely wondered why his post-practice interview on Monday had opened with chatter about a former Boston player.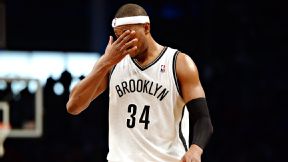 Joe Camporeale/USA TODAY Sports
Paul Pierce has a fracture in his right hand that will force him to miss next week's game against Boston."I thought this was Celtics talk," Sullinger quipped. "Paul's a good guy and I wish the best for him. But we've got to worry about our season too."
Members of last season's Celtics squad were disappointed to learn of Pierce's injury, but they were more concerned with licking their own wounds after losing to Milwaukee on Saturday night. The Bucks, with two of their three wins this season coming against Boston, visit TD Garden for a third encounter on Tuesday night.
Courtney Lee raved about Pierce's professionalism, particularly how he was one of the first players in the weight room and on the practice floor last season. But asked if he was disappointed the Celtics wouldn't see Pierce next week, Lee was brutally honest.
"If he's not playing, then that betters our chances of winning, so let him sit down," Lee said.
Like Lee, Brandon Bass sympathized with Pierce, lamenting the missed opportunity for him to play against his former team. But asked if had been looking forward to playing his old teammate next week, Bass likewise downplayed the significance.
"Nah, not really," Bass said. "It's just another game. I think all of us that played with him for a couple of years will be happy to see him or whatever, but it's another game. We approach each game with the same competitive spirit."