WALTHAM, Mass. -- Masked by their 7-12 record is the fact that the Boston Celtics have played above-average defense this season.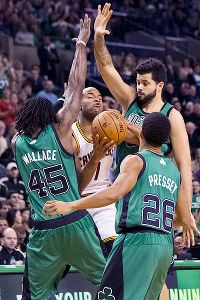 Matthew J. Lee/The Boston Globe/Getty Images
Overall, the Celtics' defense has been better than expected, ranking seventh in the league in points allowed.Scoff if you must, but the Celtics sit in the top third of the league in defensive rating by allowing 101.1 points per 100 possessions, top the league in 3-point defense (32.2 percent) and rank seventh in points allowed per game (96.6).
The team's Achilles heel is its offense. The Celtics rank 26th in rating (96.9) and are generally an inefficient and inconsistent group on the offensive end. And their woes generating points are leading to easy scoring opportunities for their opponents, hindering their defensive success.
You see, everyone knows that the Celtics are a team in transition. Right now, they're simply struggling with transition defense.
Consider this: According to Synergy Sports defensive data, the Celtics allow 0.865 points per play in the half-court set, ranking seventh in the league. Opponents shoot 43.1 percent against them in the half court and score on just 42 percent of those possessions.
Transition plays have accounted for 14.2 percent of Celtics opponents' total plays and teams are averaging 1.104 points per play in those situations. Opponents shoot 57.6 percent and score on 53.1 percent of their possessions in transition against Boston.
The Celtics actually rank in the top half of the league (14th) in transition defense, but the quantity of those attempts is a concern for first-year coach Brad Stevens. The Celtics have been prone to rashes of turnovers and poor shot selection has allowed teams to attack them off missed baskets. Boston also gets out of sorts when the shot clock gets low.
"I think transition defense can rear its head in a number of different ways," Stevens said. "It starts with the kind of shots that you're getting on one end. Hopefully you're getting shots [instead of turnovers]. If you don't get shots, you're not going to get back and it's going to be a pain anyway. That's why it's the old adage as a coach -- you'd rather just dropkick the ball 20 feet into the stands than throw it away to the other team so that they can run and score.
"But I think we're getting the turnovers [down]. We turned it over 20-some-odd times against Milwaukee the first [meeting last month], 10 the other night. The offense was a lot better, a lot more crisp. We just didn't finish. But that hurts your transition, when it's not. You take bad shots, you take challenged shots, you turn it over, that's going to put you in a predicament."