The Boston Celtics are in first place in the Atlantic Division. If the playoffs started today, they'd be a top-four seed in a shambled Eastern Conference. And yet part of Boston's fan base could not be more miserable.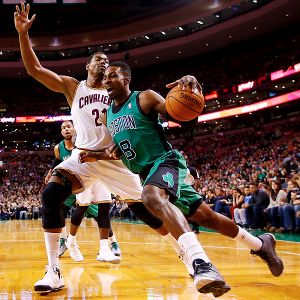 Jared Wickerham/Getty Images
Think Jeff Green or any other Celtics player wants to tank this season and pin their hopes on the lottery? Think again.To some, there is only one blueprint to a rebuild: You have to be bad and you actually have to try to be even worse. But there's a problem this season and it's the fact everyone in the East not named Miami or Indiana is average or worse (more the latter). So even though Boston is four games under .500 at 8-12 through the first quarter of the season, that's good enough at the moment to compete for a division title and a lofty playoff berth.
This is distressing to some Celtics fans, who see a loaded 2014 draft class and want the slice of the franchise-altering pie they thought they were getting when the team dealt Paul Pierce and Kevin Garnett to Brooklyn. Instead, it'll be Boston with the better overall record among those two teams when they meet in Brooklyn next Tuesday night.
What the Tank or Bust sector of the Celtics' fan base must keep in mind is that there's no surefire path back to contending for a title. Pinning your hopes to pingpong balls doesn't always work (right, Rick Pitino?) and sometimes you still need to call an audible along the way (hey there, Kevin Garnett trade).
Listen, there's no guarantee that Boston will win the division or even earn a playoff spot playing .400 basketball (though the East is trying its damnedest to make that stand up). You have to think some of these underachieving teams like Brooklyn will find their way eventually, right? Right?!
Then again, the Celtics navigated an absolutely brutal November schedule and managed to keep their heads above water. They'll soon get an All-Star-caliber jolt when Rajon Rondo is able to return from ACL rehab. You can make the case that Boston will only get better the more comfortable the C's get under first-year coach Brad Stevens.
So our advice to Celtics fans is simple: Embrace winning. Isn't it better to establish a winning culture and identify the known building blocks for the team's future rather than roll the dice for a mere chance at the unknown?
Remember that the Celtics have enough draft picks -- nine first-rounders over the next five years -- and young assets that if they desire to trade their way up the draft board in the future, they might even be able to do it. They've got tradable assets and trade exceptions that will let them infuse talent into their core.