BOSTON -- Many nights this season, after the final buzzer, Kris Humphries would retreat to the locker room with his teammates, listen to coach Brad Stevens' postgame talk, then duck into a nearby exercise room for the cardio workout that he didn't receive over the previous 2 ½ hours.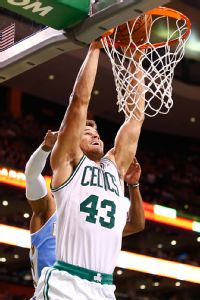 Jared Wickerham/Getty Images
Kris Humphries with a dunk.
Humphries played inconsistent minutes at the start of the 2013-14 season, his first with the Boston Celtics, and the only spikes often came when another big was injured or underperforming. Boston leaned most often on its younger players -- Jared Sullinger, Kelly Olynyk and Vitor Faverani -- early in the season, but Humphries pledged to stay ready.
So after practice he'd often join rookie Olynyk for some 3-point work (even though he has shot a mere 18 triples during his 10-year NBA career). After Thursday's practice session, he recruited rookie guard Phil Pressey to run some 17s (the baseline sprint drill that gives most hoopsters nightmares).
On Friday night, with a rare national television stage, early foul trouble for Sullinger opened a rare door for Humphries. The 28-year-old big man responded with his best game in a Boston uniform, putting up a season high 18 points on 8-of-11 shooting with seven rebounds, two assists, a block and a steal over 23:32. Humphries was a team-best plus-26 in plus/minus as the Celtics fended off the second-half surges of the Denver Nuggets while emerging with a 106-98 triumph.
Friday's extended performance afforded Humphries the opportunity to skip his postgame work (though we can't be certain he didn't jump on the treadmill for a quick jog). Humphries slipped on a stylish green twill blazer and turned around to find a rare mob of microphones waiting for him.
He spent the next three minutes stiff-arming questions about his role, all while teammates hurled playful compliments at him from behind the media horde. The final question asked Humphries to describe what this season has been like given his limited role.
"We're winning and stuff; I don't like to focus on me and where I'm at," said Humphries. "We're at the top of the [Atlantic Division], so that's what's important -- whether my role is no minutes, 5 minutes, 20 minutes, or more, I have to contribute and it's not about me, so I don't really want to answer that question."