NEW YORK -- Shortly after Jeff Green hit a buzzer-beating winner in Miami last month, Brad Stevens' wife, Tracy, sent him a text that said, "Congratulations, you beat the Heat. Now you have to beat human nature."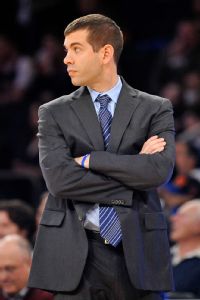 Joe Camporeale/USA TODAY
Celtics coach Brad Stevens reminds his team: "Never as good as you think you are, never as bad as you think you are, and you're never far from either."The insinuation was that Stevens had to find a way to keep his team focused despite stunning the world champs on their home turf, and Stevens himself had begun worrying about Boston's next game from virtually the instant Green's 3-pointer ripped through the twine.
One month later, in New York, with the Celtics playing their best basketball of the season, Stevens watched his team flat out demolish the Knicks as part of a 112-73 thrashing at Madison Square Garden.
Human nature, of course, would be to celebrate, to puff out your chest and bask in the glow of a 41-point triumph over a team that was supposed to be in the mix for the Atlantic Division title. Human nature would be to celebrate being 6-2 over your last eight games and enjoy having a small cushion atop the division you weren't supposed to have any business competing in.
"I'm not doing cartwheels," said Stevens. "[Celtics players] know I'm not going to do cartwheels... I just said, 'Keep being a team and keep playing together.' The other thing is that we need to keep building off the good things we are doing."
Stevens paused a moment to consider what he had revealed about his postgame speech then smiled.
"It was boring as heck," he added. "It was boring as heck."
Make no mistake, the Celtics enjoyed the heck out of Sunday's win. Rehabbing point guard Rajon Rondo wore a permanent grin on the Boston bench, bouncing out of his seat with each of Mike Woodson's exasperated timeouts to greet his teammates and celebrate their efforts.
And while Boston's postgame locker room buzzed with energy as players made dinner plans for a rare night off in New York City (Keith Bogans and MarShon Brooks serving as the team's Yelp, given the time they've spent in Brooklyn), there was also this notion that Boston couldn't rest on this victory very long.
That, of course, emanates from Stevens.
"Never as good as you think you are, never as bad as you think you are, and you're never far from either," said Stevens. "It's one of those days in a lot of ways. But, also, we played pretty well. Can we play like that every day? Probably not. But can we bring the same intensity level and be as much of a team as we were today? Hopefully."