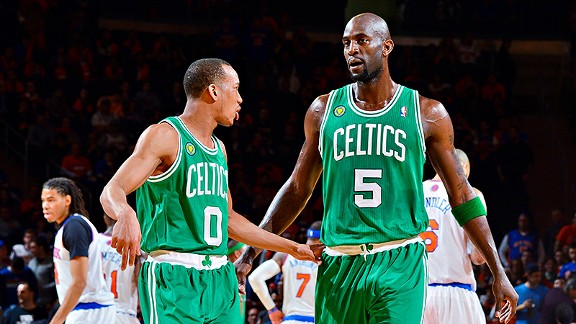 Jesse D. Garrabrant/NBAE/Getty Images
Avery Bradley and Kevin Garnett together in Boston.NEW YORK -- While most of his teammates downplayed the impending reunion, Avery Bradley couldn't help but admit that there will be some extra emotions in going against Kevin Garnett and the Brooklyn Nets on Tuesday night.
Garnett famously took a lot of Boston's young bigs under his wing during his time with the Celtics, but it was Bradley's work ethic and defensive talents that caused the two to bond. Bradley often gushed about what it meant to play with Garnett, calling him the "best teammate I ever had." Now, for the first time in Bradley's career, they will be on opposite sides.
"I think it's going to be pretty cool to be on the other side of playing him, seeing his intensity [after] being his teammate," said Bradley. "I think it's going to be fun."
Garnett might have scorned Ray Allen after he departed for Miami, but Bradley expects the two will share a moment at some point on Tuesday at the Barclays Center. Bradley reflected on what brought the two so close together.
"I think because I worked and I don't really say much, I just kinda come in, get my work in, and I think he respected that," said Bradley. "And once I got a chance to play and I was succeeding because of my hard work, he kinda respected me for that and it made him want to continue to help me become a professional, on and off the court. He was just the perfect role model for a lot of guys on the team. He was the best teammate I ever had."
Bradley said he's talked with Garnett occasionally since the trade and said Garnett offers encouragement whenever Bradley is playing well. Asked if it's hard to watch his former teammate struggle amidst the Nets' slow start, Bradley says he's been too locked in on Boston's schedule to pay too much attention to what the Nets are doing.
But make no mistake, Tuesday's game is more than just another game for Bradley.
A couple notes from the team's morning shootaround at Baruch College:
OLYNYK LIKELY OUT VS. NETS: Celtics rookie Kelly Olynyk has ramped up his on-court activities in recent days, but coach Brad Stevens said at Tuesday's shootaround that it's unlikely he'll play versus Brooklyn. "I've heard no," said Stevens. Olynyk would be in line to miss his ninth straight game with a right ankle sprain.

CRAWFORD DISHES TO TEAMMATES ON AWARD: Like a true point guard, Jordan Crawford dished the assist for his Eastern Conference Player of the Week honor to his teammates. "It just means we're playing good as a team," said Crawford. "My teammates are doing a real good job of helping and making it easier on me. I'm just happy with the award. I thank my teammates, though."