NEW YORK -- Jared Sullinger is calling shenanigans. The Boston Celtics' second-year forward/center finds it way too convenient that one night after jousting with old friends Kevin Garnett and Paul Pierce in Brooklyn, the Green must host former coach Doc Rivers and the Los Angeles Clippers.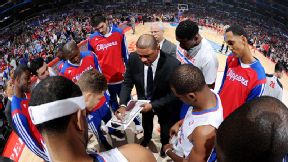 Andrew D. Bernstein/ Getty Images
Former Celtics coach Doc Rivers and his Clippers visit Boston Wednesday."I think it was a setup," a lighthearted Sullinger said. "I think once they saw the trade happen, I think they set it up to have a back-to-back -- former teammates and then former head coach. I think it was all a setup. At the same time, it's another game. That's the beauty of the NBA. We took a loss today, but we've got another shot to get another win."
But there are probably 28 other teams the Celtics would rather see on the tail end of this back-to-back on Wednesday. Even after most downplayed the emotional aspect of Tuesday's tilt in Brooklyn, the hype machine will be in overdrive again for Wednesday's game. Oh, and it doesn't help that the 14-8 Clippers were relaxing in the Hub on Tuesday night.
That said, Sullinger didn't hide how much Rivers meant to his own development.
"I can't be a rookie -- that's one thing he kept telling me [last season]," Sullinger said of Rivers' coaching during his first NBA season. "That if you want to play, you can't be a rookie. He always pushed me. I was the hardest he coached throughout the team [last season], and every little thing I did, I couldn't get away with. He was always on me. Almost like playing for my father [Satch] all over again."
Across the locker room, Jeff Green likewise gushed about Rivers' impact on him.
"What he's done for me, individually, he made me look in the mirror and try to figure out what type of player I want to be," Green said. "He gave me a chance to really showcase what I can do. And he gave me an opportunity that I needed to present myself out there to people, to come with the aggression each night. I've known Doc since I've been a sophomore in college. ... He's done a lot for me, he's done a lot for this organization as well.
"It's going to be fun to see him again, but when the ball is thrown up in the air, he's on the other team, he's the enemy. And we're going to try to beat his team."
First-year Celtics coach Brad Stevens, the man tasked with navigating the rebuild that Rivers had no desire to endure, was asked if he wanted to beat his predecessor in their first head-to-head meeting.
"No, I want [the Celtics] to play good basketball," Stevens said. "I don't know Doc very well. I've met him maybe once, at the coaches' meetings in September and I've talked to him on the phone maybe twice in my life. I have a lot of respect for him, a lot of respect for what he accomplished here, what he's doing there, and the coach he is. And his staff. But there's nothing extra for me. It's not about me."
Even Rajon Rondo suggested he'll be emotionally detached from seeing his first NBA coach.
"I'm not an emotional guy, so I won't tear up or anything," Rondo said.
Regardless, the Celtics will be glad when this two-day reunion tour is over.