NEW YORK -- As a rookie, Boston Celtics forward/center Jared Sullinger endured plenty of practice wars with Kevin Garnett. And while Garnett is often just as intense inside the practice facility as he is in front of the cameras on game night, Sullinger didn't quite know what to expect being on the opposite side of Garnett for the first time.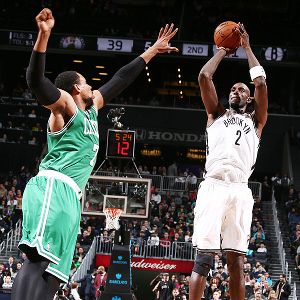 Nathaniel S. Butler/NBAE/Getty Images
Kevin Garnett exchanged pleasantries with Jared Sullinger, then had 11 points and nine rebounds in helping beat his former team.So Sullinger was rather surprised when Garnett dapped him up before the game and offered a hug. He even asked Sullinger how his surgically repaired back was doing.
"Kevin said, 'What's up?' which doesn't really happen," Sullinger said with a smile. "He said, 'What's up?' He was talking to me, asking me how my back was. I wasn't expecting that, but it was Kevin. I guess we're special, I don't know."
Boston's reunion week got off on the wrong foot as the Nets held their own mini-reunion, getting both point guard Deron Williams and another of Boston's old friends, Paul Pierce, back for Tuesday's tilt at the Barclays Center.
Williams stole the show, scoring 25 points on 10-of-16 shooting with seven assists and three rebounds in a 104-96 Brooklyn win. Williams willed in some tough shots down the stretch and ultimately allowed the Nets to fend off Boston's late charge, snapping the Celtics' three-game winning streak in the process.
But Garnett and Pierce did their part, too. Garnett used the green jerseys on the opposite end to give himself a much-needed jump-start, and he chipped in 11 points on 5-of-10 shooting with nine rebounds. He hit a cluster of vintage Garnett midrange jumpers and was the chest-pounding, spit-spewing guy Boston fans remembers oh-so fondly.
Pierce, surprising most by returning early from a fractured right hand, played in a protective black glove. He missed all three shots he took and finished with only four points, but did his familiar give-the-game-what-it-needs routine, which included seven rebounds, three assists and one well-timed fourth-quarter drawn charge.
Both Garnett and Pierce, as well as the former teammates they played with on the Celtics, tried their best to downplay the emotional aspect of Tuesday's meeting.