BOSTON -- Doc Rivers didn't look up for nearly a minute as the video celebrating his nine years with the Boston Celtics ran on the TD Garden JumboTron that hangs amid the team's 17 championship banners, the most recent of which he helped hang in the rafters.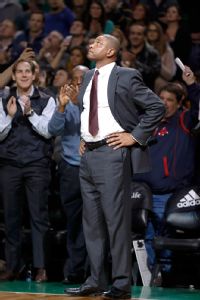 Greg M. Cooper/USA TODAY Sports
Doc Rivers looks at the tribute to his time in Boston on the TD Garden videoboard.Most of the fans in the building had risen to their feet and started clapping before Rivers even gazed skyward. As if trying to prevent the rush of emotion, he just kept coaching during a timeout before the start of the second quarter.
Rivers said some words to his players, jotted down a play on the whiteboard, and then, maybe a bit begrudgingly, he looked up as images of the 2008 title team faded in and out on the screen.
Some two hours later, Rivers settled behind a makeshift podium in the Celtics' media room and the mere mention of the video tribute left him wobbly again.
"I'm still emotional," Rivers said. "I thought the fans were …"
He breathed deep and paused for eight seconds trying to compose himself. Even when he started back up, he was fighting to keep it together.
"It was just a really nice day," Rivers said. "This is just such a classy place here. So it was really nice when I walked out and, you know, I'm not used to walking out on that [visitor's] side, and all those guys, the people, they lined up and I was basically useless for the first 18 minutes of the game.
"It was just nice. It didn't surprise me because -- you've got to live here to understand it -- that's just the way they are. It's an amazing fan base. It really is. And I just want everything to go well for them."
A reporter playfully asked if it was too late to change his mind about leaving town.
"I tell you, boy, this is such a neat place," Rivers gushed. "I tell people all the time -- people don't get Boston, they really don't. They don't understand. And I think you have to be part of it to get it, I really do. I don't think you can get it from the outside. It's just a special, different place, and people were born here, and raised here, and they cheer for their teams, and they love their athletes. And it's just a great place to be.
"The best decision I ever made was 10 years ago, when I decided to come here. That was the best decision I ever made."
He paused a beat again to collect himself and quipped, "Can we talk about basketball?"