BOSTON -- Jeff Green and Jared Sullinger are locker neighbors and both were dressing after the Boston Celtics posted a 90-86 win over the New York Knicks on Friday night, so when a reporter prefaced a question for Sullinger by noting that "Jeff was having a rough night," Green was in earshot and Sullinger could only chuckle at the statement.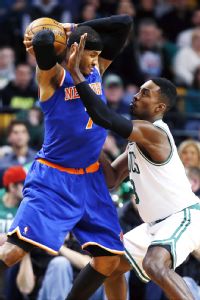 AP Photo/Michael Dwyer
Jeff Green locked down Carmelo Anthony in the fourth quarter after getting lit up in the first half."In his face, wow! Honestly, you're going to have nights like that," said Sullinger, to which Green playfully shouted, "Thanks Sully!" as he answered. "Jeff, defensively, did a great job on Carmelo [Anthony]. He did his job. And just because he wasn't scoring, doesn't mean he wasn't effective."
To that point, the five possessions that Melo finished with Green guarding him in the fourth quarter played out like this: turnover, missed 12-foot jumper, missed 3-pointer, missed 10-foot jumper, blocked layup attempt.
No need to grab your calculators. That's zero points allowed on five defended possessions over the final 8 minutes, 19 seconds as the Celtics rallied from an 11-point deficit for their second victory over New York in six days. In the fourth quarter, Anthony finished 1-of-8 shooting for three points and was minus-11 in plus/minus for the frame.
This win didn't come nearly as easily as Boston's 41-point shellacking of the Knicks at Madison Square Garden. But the Celtics can thank Green for helping them rally after kicking away a 17-point first-half lead.
Green actually labored through the first three quarters. Not only did he have just four points on 1-o-f 3 shooting, but he was minus-19 in 19:38 of floor time. He played nine inspired minutes to close out the game and produced a clutch driving layup with 9 seconds to play to put the game out of reach.
After talking with Sullinger, reporters shuffled over to chat with Green, and this time the first question was phrased so as to highlight his defensive contributions.
"That was the only way I could be in the game at that point. Offensively, I played like poop," admitted Green, his family-friendly choice of words leaving Sullinger cackling in delight nearby. "I had to find a way to allow Coach [Brad Stevens] to put me on the floor, and, defensively in the second half, that was the only way I could be on the floor, so I had to step it up on that end."