In our mind, Rajon Rondo donned the Bill Lumbergh costume (suspenders, glasses, coffee mug) last Friday and wandered around the Boston Celtics' locker room telling teammates, "I'm gonna need you to go ahead come in tomorrow, so if you could be here around 9 that would be great, mmmkay ... Oh, and I almost forgot, I'm also gonna need you to go ahead and come in on Sunday too, 'kay?"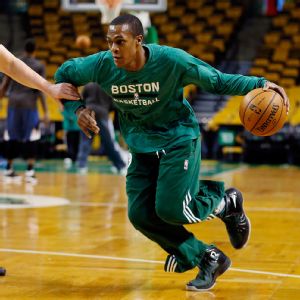 AP Photo/Michael Dwyer
Rajon Rondo is in the process of preparing for game action, but the Celtics don't want to rush his return.Fortunately for Rondo, his teammates have been more than happy to oblige on some extended hours at their own office space, all with the goal of helping the All-Star point guard work through the final stages of ACL rehab.
After Rondo was cleared to resume full-contact practice activities last week, Boston extended its pair of weekend practices despite having played four games in six days before that break. On Friday, a handful of teammates stayed late after practice for a half-hour 5-on-5 scrimmage aimed almost exclusively at helping Rondo test his knee in game-like conditions.
There's a misconception about Boston's ability to ramp Rondo back up. Once he was cleared to return to practice last week, some assumed that the team would need only a couple weeks of practice time to get him game-ready. If only it were that easy.
In the 52 days since the start of the 2013-14 regular season, the Celtics have held 16 practices, the majority of which saw about as much activity as your typical high school gym class. Due to a game-heavy schedule, particularly in October, the Celtics often did little more than watch film and go through light shooting drills during off-day sessions.
First-year coach Brad Stevens operates with a philosophy that prefers shorter practices, with the sessions often structured to preserve his players over the course of an 82-game season. As Stevens has noted, he couldn't run his players ragged even if he wanted to because of the demands of the NBA schedule.
The Celtics had games on Monday and Wednesday this week, which limited how much Rondo's teammates could help him those days. The team went light between games on Tuesday, then took Thursday off. Friday saw the Celtics engage in a typical 75-minute session, but it featured limited live action. Rondo herded some teammates after the session for the 5-on-5 scrimmage.