BOSTON -- The Celtics spent the first part of the season as one of the most sluggish first-quarter teams in the league. They've corrected that, but they're still on the elusive quest to become a 48-minute team and one that's comfortable playing with a lead.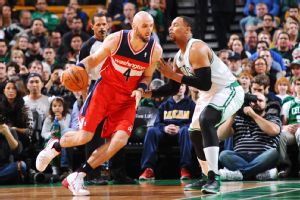 Brian Babineau/NBAE/Getty Images
Marcin Gortat and the Wizards eventually gained the upper hand after weathering the strong early play of Jared Sullinger and the Celtics.
One game after kicking away an early 21-point advantage in a loss to the Detroit Pistons, the Celtics fumbled away an 18-point cushion while falling to the Washington Wizards 106-99 during a Saturday matinee at TD Garden.
Over the course of this five-game homestand, the Celtics outscored opponents by a staggering 9.8 points in the first quarter. To put that in perspective, that's almost three points better than the nearest team (Oklahoma City Thunder at plus-7.0) and almost double the next-closest squad (Dallas Mavericks at plus-5.0).
But Boston's quarterly splits get ugly from there: minus-3.6 in the second quarter, minus-6 in the third and minus-1.8 in the fourth during that span.
Is Boston getting a little too comfortable with early leads?
"I don't think they're too comfortable. I think, more than anything, maybe not playing with enough focus on controlling the next thing," said coach Brad Stevens. "Because when you start to lose a lead, that's a challenging thing from a human-nature standpoint. So one of the things that we've got to do is we've just got to be better in playing the next possession, regardless of circumstance.
"And a lot of that has to do with being young. A lot of that has to do with being on the right side of the scoreboard on a couple of occasions. And you build belief, and then this is the next challenge that comes with that, right? So you never would say a good start's not good. A good start's what you want, but you also want the rest of the 48 minutes to be good as well."
During this five-game homestand, Boston shot 59.3 percent overall from the floor in the first quarter and 50 percent beyond the 3-point arc. Its average lead was 30.6-20.8.
During Saturday's visit from the Wizards, it was even greater. Boston shot 60 percent from the field and, keyed by 10 points from Jared Sullinger, owned a 30-14 advantage after the first 12 minutes. Washington trimmed its deficit to seven at halftime and had tied the game before the end of the third quarter. Trevor Ariza (game-high 27 points) and John Wall (20 points, 9 assists, 6 steals) took over the final 16 minutes, and a 14-1 run late in the fourth helped Washington lead by as much as nine in the closing moments.