The schedule-makers did few favors for the Boston Celtics over the first two months of the 2013-14 season. They threw the team a bone at Christmas time.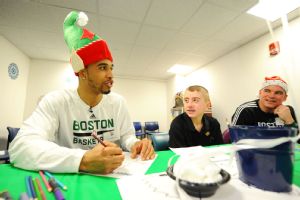 Brian Babineau/NBAE/Getty Images
Courtney Lee, who spread holiday cheer earlier this month at Children's Hospital, will spend Christmas with his family for the first time in eight years.For the first time in six seasons, the Celtics will not be part of the NBA's jam-packed Christmas Day slate and instead are enjoying a rare five-day holiday break.
After Sunday's loss in Indiana, Boston coaches and players dispersed across the country. The team will take three full days off from basketball activities before reconvening for practice at the team's training facility in Waltham, Mass., on Thursday. Boston doesn't return to game action until a Saturday matinee against the visiting Cleveland Cavaliers.
Playing on Christmas is a badge of honor for many NBA teams, a chance to partake in the league's biggest one-day showcase. But these Celtics aren't complaining about being out of the national spotlight for one season.
First-year Celtics coach Brad Stevens said the break is a chance "to sit back and reflect on how fortunate we are and how lucky we are to do what we do. The chance to compete and coach and play together, to me, it's another season and a reason to be thankful.
"I certainly would love for the Celtics to be playing on Christmas Day, but I don't think anybody in [the Celtics organization] is going to mind being with their family and taking the day for the real reason of why we're doing it and spending time together."
Gerald Wallace is back in his native Alabama, somewhere he hasn't spent Christmas since he was a 17-year-old senior at Childersburg High School. Five NBA teams (Sacramento, Charlotte, Portland, Brooklyn, Boston), a total of 839 games (between college and the pros), four children (Daryn, Malliyah, Mya and Kennedy) and what must feel like a lifetime later, the 31-year-old Wallace finally has the chance to head home for the holidays.
"It's going to be exciting," Wallace said. "I haven't been home in a while, and I get to see family and friends around the holidays, spend time with my kids. I'm going to enjoy it."