WALTHAM, Mass. -- There are probably a bunch of ways to sugarcoat the Boston Celtics' recent decline on defense, but Jeff Green summed it up succinctly after Friday's practice.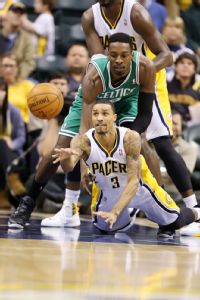 Brian Spurlock/USA TODAY Sports
Jeff Green says the Celtics have to get back to their roots and focus on maintaining defensive intensity."Lately, we've been s----y," said Green.
Boston's defensive rating (points allowed per 100 possessions) is 109.2 over the past three games and 106.2 over the past seven. That's a noticeable jump from a season average of 102. The Celtics have allowed opponents three 100-plus-point games the past three outings, and opponents are averaging 100.3 points per contest over the past seven.
Even when the Celtics struggled amid a hectic November schedule, their defense was still a top-10 unit. Through Dec. 8, the team ranked ninth in the league with a defensive rating of 100.7 through 22 games. Entering Friday's action, Boston had slipped to 12th overall.
First-year coach Brad Stevens wasn't revealing any classified information when he noted Friday that practices the past two days have been geared toward the defensive side of the ball. And Green suggested the team went all the way back to square one in looking to get itself back on track.
"The past couple games, we've been giving up a lot of points, a lot of easy looks," said Green. "I think it was necessary for Coach to get us back to the basics. That's how we start our offense: by getting stops and getting out in transition."
It's a no-brainer that teams play better in wins than losses, but Boston's defensive splits between the two are pronounced. Boston's defensive rating in wins is 96.7, and it skyrockets to 105.8 in losses. Opponents average 92 points in Boston's wins versus 100.3 in the team's losses.
There's an obvious correlation between how Boston's offense performs when the team is generating stops as opposed to when the team is giving up points. It all goes hand in hand.
But for Stevens, it has to start on the defensive end. And the Celtics are determined to get back to the caliber of defense that served as the backbone of their most inspired play of the season.
How do they get there? Avery Bradley, an NBA All-Defensive second-teamer last season, said it starts with the intensity level on that side of the ball.
"Energy -- I mean, it's like night and day. When we come out and some games we're just all down in a stance, then some games it's like we're standing up, not really any energy at all," explained Bradley. "It's obvious when you watch film."