WALTHAM, Mass. -- Back in August, the Boston Celtics took top draft pick Kelly Olynyk up to Canobie Lake Park, a New Hampshire amusement park, and put him on some rides during a community event. He didn't get a chance to try out Yankee Cannonball or the Canobie Corkscrew, but he's been riding his own roller coaster for the better part of the past six months.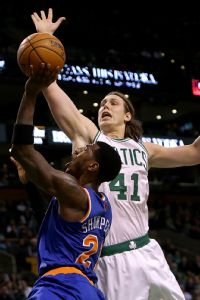 Barry Chin/The Boston Globe/Getty Images
As he struggles on offense, Kelly Olynyk is trying to do the little things to help the Celtics win.From being drafted 13th in June's draft to starring at the Orlando Summer League to struggling early in his rookie campaign to elevating to a starting role as he settled in to suffering a severe right ankle sprain that sidelined him for 10 games, Olynyk has crammed an awful lot into his first 180 days on the job.
On Monday, a reporter was rehashing Olynyk's ride and started asking Celtics coach Brad Stevens if, given the up-and-down nature of that voyage, he had to remind Olynyk that ...
"He's a rookie?" Stevens interjected, finishing the query on his own. "No question."
Olynyk's lofty draft position -- Boston traded up three spots to snag him -- and his summer breakthrough -- he averaged a team-best 18 points and 7.8 rebounds in Orlando and was named to the all-tournament first team -- probably set the bar of expectations a bit too high even for a skilled 7-footer.
Olynyk is averaging 6.4 points, 4.9 rebounds and 1.6 assists over 19.8 minutes per game in 20 appearances. In six games since returning from injury earlier this month, Olynyk's averages are just 3.7 points, 3.5 rebounds and 1.3 assists over 13 minutes per contest.
Asked about the difficulty coming back from the ankle ailment, Olynyk pondered the question for a moment before noting, "I would just say, when you come back, you're not always back to where you were before. It's hard to keep building, keep adjusting, but it's all part of the process."
It's hard enough for a rookie to find his way in the NBA without added obstacles. Avery Bradley chipped a bone in his ankle during a pre-draft workout before Boston selected him in 2010 and his rookie campaign was limited to 162 minutes over 31 appearances.
Olynyk is shooting 37.7 percent from the floor this season, including 22.2 percent beyond the 3-point arc. Boston's offensive rating (points per 100 possessions) is a mere 96 when he's on the court (3 ½ points below the team's already anemic 99.6 rating for the season). The Celtics' defensive rating with Olynyk on the court is a team-worst 105.8.
But neither Olynyk nor Stevens is panicked about those numbers. Right now, the focus simply is on getting Olynyk trending in the right direction, finding different ways to get him going and to take some of the thinking out the game so he can get back to playing instinctively.