BOSTON -- The temptation would have been more than some coaches could resist.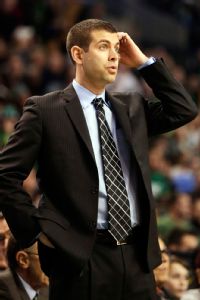 AP Photo/Steven Senne
After saying he would stick with the hot hand, Brad Stevens was true to his word on Tuesday.The Boston Celtics had kicked away a pair of double-digit leads and missed four shots with a chance to pull ahead of the Atlanta Hawks in the final 90 seconds. But Boston had one final gasp with 4.2 seconds to play and coach Brad Stevens had a decision to make: Ride the guys who got his team to that point or put in one of his most clutch players?
Stevens reaffirmed two of his coaching beliefs at the end of Tuesday's 92-91 loss -- 1) He's going to ride the hot hand and, 2) he's not afraid to put the ball in Jordan Crawford's hands in a game-deciding situation.
The vote of confidence he sent those players should outweigh the disappointment of defeat.
Stevens stuck with a crunch-time lineup of Avery Bradley, Crawford, Courtney Lee, Kris Humphries and Kelly Olynyk, riding the five players most responsible for giving Boston a chance to win, even with a fresh Jeff Green watching from the end of the Celtics' bench.
Crawford took the inbounds pass above the arc and tried to drive on Shelvin Mack -- Stevens' old friend from Butler -- but his fadeaway at the right elbow (kind of Paul Pierce-like, no?) kicked hard off the front rim as Atlanta escaped.
Crawford sprawled on the floor near center court. He had missed 12 of the 15 shots he took Tuesday, including six of seven 3-pointers. His poor shooting night diminished an otherwise solid outing (8 points, 6 rebounds, 5 assists) and forced Stevens to explain his thought process.
"Jordan lives for that," Stevens said. "So I think he'll probably beat himself up over it, but that's OK. We play again on Thursday."
Likewise, Stevens said he'd probably second-guess himself. Should he have called a timeout on one of Boston's previous possessions to draw up a play? Should he have not called time out after Olynyk's hustle tip allowed Crawford to grab the offensive rebound to give Boston a final shot?
What Stevens did was stick with what he's preached. And that consistency should be appreciated. He's noted many times this season that he likes to ride players and/or units when they are playing well and he didn't think twice Tuesday while leaning on Olynyk (a career-high 21 points), Humphries (18 points, 10 rebounds) and Lee (11 points).
So Green, Brandon Bass and Jared Sullinger -- a combined minus-47 in plus-minus -- were spectators for much of the final 18 minutes of play. Stevens has often noted that if the first unit isn't clicking on a certain night, the Celtics have got at least five guys behind them eager for their minutes. That's what came to pass on Tuesday.