Boston Celtics center Jared Sullinger has been adamant that a lingering left-hand injury isn't a big concern, but the growing padding around the ailment and a declining stat line suggests the opposite.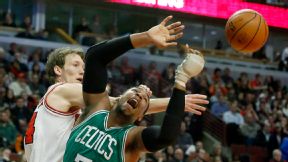 AP Photo/Charles Rex Arbogast
Jared Sullinger with a padded glove.Two days after aggravating the hand injury while falling to the floor against the Atlanta Hawks, Sullinger sported a padded glove over his left paw during Thursday's 94-82 loss to the Chicago Bulls. Sullinger put up 11 points and 11 rebounds over 31:13, but his shooting touch (5-of-12 overall, 0-for-5 away from the restricted area) seemed off, and he just hasn't been himself in recent games.
Coming back from a three-day holiday break last month, Sullinger was spotted wearing a similar glove at practice and revealed that he had a deep bone bruise and some sprained ligaments in his hand stemming from an injury incurred against the Charlotte Bobcats in late November. Sullinger downplayed the lingering effects then, saying it hurt only when he got hit in a certain spot.
He seemed to hit that spot Tuesday while crashing to the TD Garden floor after trying to muscle up a shot in traffic. Sullinger again downplayed the injury, but the team might have to consider its options in order to protect the 21-year-old from himself.
Over the past four games, Sullinger is averaging 6.8 points and 6.5 rebounds over 24.5 minutes per contest. He shot only 31.7 percent overall and was only 2-for-20 (10 percent) from outside the restricted area during those four games. He is minus-33, and Boston owns a team-worst offensive rating of 77.1 when Sullinger is on the floor during that span.
That's simply not the Sullinger we saw at the start of the season. Before this four-game lull, Sullinger was averaging 14.5 points and 7.3 rebounds over 27.2 minutes per contest through 26 appearances. He shot 47.8 percent overall, including 59.4 percent from the midrange (and 39 percent overall outside the restricted area). He was plus-89, and Boston owned a glitzy offensive rating of 105 with him on the floor (second-best on the team) over that span.
There might be nothing Boston's medical staff can do. Sullinger might be at the mercy of letting the ligaments and bone bruise heal and, with proper padding, he might simply be limiting any further chance of aggravation. But the fact that it's become an issue at all, more than a month after the initial injury, is reason for concern. And the Celtics must consider resting Sullinger and that hand if that's the only way to allow it to fully heal.
Boston has lost five of its past six games, and resting Sullinger for the betterment of his future should not be a concern for the team.
Some additional notes after the Bulls topped the Celtics:
STEVENS ENCOURAGED BY EFFORT: Stevens isn't one to lean on silver linings, but he found positives in Thursday's loss to the Bulls, including how the Celtics matched Chicago's physicality. Stevens stressed that the Bulls are far more talented than their record indicates and liked much about how his team played. "I leave pretty encouraged," Stevens told reporters in Chicago. "This is the best we've played, in a lot of ways, the last seven games." It was poor shooting that hurt jumper-happy Boston. The Celtics were 11-of-39 (28.2 percent) from the midrange and beyond (including 2-for-12 beyond the 3-point arc). Jeff Green missed 13 shots overall, including five near the rim.

Twitter.com/MaineRedClaws

MarShon Brooks at work for Maine.

BROOKS DEBUTS IN MAINE: MarShon Brooks, assigned to the Maine Red Claws on Wednesday, scored 27 points on 9-of-18 shooting with four rebounds and three assists over 31:23 in his D-League debut. Brooks was a team-best plus-12. During his weekly appearance on Boston sports radio 98.5 the SportsHub, Celtics president of basketball operations Danny Ainge noted, "MarShon, he's been stuck behind Avery [Bradley] and Courtney [Lee]. Avery is having a terrific year; Courtney is having very good year, also. He hasn't gotten an opportunity to play in games... [and] we just want him to stay ready. We're not going to have him there long, he'll be with us most of the time." Ainge noted Maine is a chance for Brooks to get game reps and stay ready for when an opportunity presents itself with the parent club.

LOOSE BALLS: Gerald Wallace, who has averaged about 10 shots per game over his 13-year NBA career, endured yet another game this season without a shot. Against the Bulls on Thursday, Wallace went 17 ½ minutes without a field goal attempt. This is the fifth time he's played at least 14 ½ minutes without a shot. ... Courtney Lee continues to do good things, this time chipping in seven points and five rebounds against the Bulls. But Brooks was also a team-worst minus-13 overall in plus/minus on Thursday. Despite playing some excellent individual ball recently, the team numbers have not reflected a similar uptick. ... Coming off a double-double effort against Atlanta, Kris Humphries (9 points, 11 rebounds) nearly repeated the feat. Humphries brought tremendous effort on Thursday, particularly against a Bulls frontcourt that's near the top of the league in rebounding.