Boston Celtics coach Brad Stevens keeps repeating it, but not everyone wants to listen: The 2013-14 season isn't black and white. You can't gauge this team's progress by wins and losses.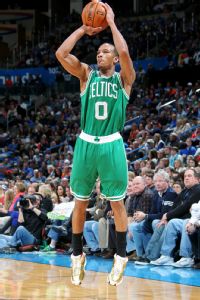 Layne Murdoch Jr./NBAE/Getty
Retaining Avery Bradley could be easier for the Celtics after they dealt Courtney Lee and his cap-clogging contract.But the Celtics win a couple of games, flirt with a playoff berth and the buzz screams that they are a tank-bucking bunch of overachievers led by a 37-year-old wunderkind. They lose a few games and all of a sudden Stevens is a first-year coach enduring the hardships of the NBA transition with a flawed roster that's finally trending toward the lottery team we expected.
The only truth is that the Celtics are a team in transition. They made no promises about how the 2013-14 season would play out, only that the players and coaches would try their damnedest to win games and management would do everything in its power to position the team to best accelerate through this turnover process.
Boston is enduring a rough patch on the court. A combination of inconsistency at both ends of the floor and a schedule ramping up in difficulty has sent it to seven losses in its past eight games. The Celtics have slipped out of the Eastern Conference playoff picture, but remain about as close to a playoff berth as they are to a shot at a top-five pick in the draft.
The scuttlebutt now is that Boston is at some sort of crossroads, that the team must decide which direction it is going in: Operation Tank or load up with a returning Rajon Rondo and make a run at the playoffs.
The win-loss record is a flawed measure of the team's progress. The 2013-14 Celtics made an important move Sunday in how this season will be graded, agreeing to a deal that will send Courtney Lee and his cap-clogging contract to the Memphis Grizzlies in exchange for Jerryd Bayless and his expiring deal.
The move seemingly weakens the team a bit this season ("They're tanking!" the uninformed cry), but gives the Celtics added flexibility in future seasons, which could help keep a key contributor such as Avery Bradley around for a time when wins and losses will mean a whole lot more than they do this year.