WALTHAM, Mass. -- Boston Celtics forward Jeff Green said after Monday's loss to the Houston Rockets, a game in which he didn't play over the final 14 minutes, that a shoulder sprain nagged at him and likely contributed to him not getting back on the floor.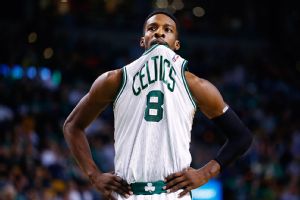 Jared Wickerham/Getty Images
Jeff Green sat out the final 14 minutes in Monday's loss.If he was ailing, Celtics coach Brad Stevens didn't seem overly concerned. Asked about any lingering effects after Tuesday's workout, Stevens replied, "He practiced full-go, so if there is something, he's probably going to get treatment, but it's not going to keep him from playing."
Green finished with just four points on 2-of-10 shooting with six rebounds and four turnovers over 27:43 during Monday's 104-92 loss to the Rockets, Boston's ninth consecutive defeat. Asked about sitting out the entire fourth quarter as Boston attempted to rally, Green said, "It wasn't because I was playing bad, it was because I sprained my shoulder at the end of the first [quarter], then it just kept nagging me throughout the game. Maybe that's the reason, I don't know."
In eight games this month, Green is averaging 15.3 points but shooting just 41.5 percent from the field (including 31.1 percent beyond the 3-point arc). His rebounding is up (6 rebounds per game), but his assists are down and turnovers are up and he's minus-75 in plus/minus for the month. What's more, Boston's offensive rating is 7.2 points better when Green is off the floor during this eight-game span.
Asked about Green's lackluster outing after Monday's game, Stevens said, "I don't want to make excuses for him, and at the same time I don't want to assume anything, but he just didn't have it. And that's OK. That's why other guys are on the team -- to step up and to fill that void when that happens. I thought some other guys did a good job, but clearly he wants to play better than that."
A few more notes from Boston's afternoon session at the team's training facility:
SULLINGER'S STIFF NECK IS 'OK': Stevens had a similar response when asked about Jared Sullinger's neck, which the second-year big man said spasmed a bit on the Boston bench during Monday's loss. "Full-go today, didn't mention anything to me about it and didn't mention anything about sitting out," said Stevens. "Obviously, I get the feedback from our trainers every morning about whether or not guys are available to practice, and both were available." Sullinger, who sported kinesio tape over the neck after Monday's game, said he was OK after Monday's session. "It's OK, just a little banged up," he said. "Battling down there with the big boys kind of does that to you. It's stiff, but at the same time, I can look left and right, and can drive in my car, so I'm OK."

PERSONAL DAY FOR BOGANS: The Celtics had 13 of their 14 players on the court for Tuesday's session, but veteran wing Keith Bogans was excused for personal reasons. Stevens didn't expound much, noting, "He was not here today, we gave him the day off." Bogans has been a healthy DNP in 18 of his last 20 games, seeing time recently only in the immediate aftermath of the Jerryd Bayless-for-Courtney Lee swap.

REBOUND COMPETITION WITH SULLY + HUMP: Jared Sullinger noted that he and Kris Humphries, the two primary rebounders on the Celtics, have a friendly competition with each other about who's grabbing more boards, particularly now that the two are sharing the floor in the latest starting lineup combination. "I love playing with all the bigs, just because we're so unselfish," said Sullinger. "[Brandon] Bass is so unselfish on defense, and Hump is the same way. It's just fun competing out there, especially with me and Hump. Rebounding, we always compete who can get the most rebounds in a game, or who gets the most rebounds while we were on the floor. That's the beauty of having two rebounders on the court." Is anyone keeping stats on how that competition is going? "No, we don't go that far. It's more like a gentleman's bet. We like to fight for the rebounds."