WALTHAM, Mass. -- A seasoned veteran gave Jared Sullinger some simple advice last season: Keep your hands up when Rajon Rondo has the ball.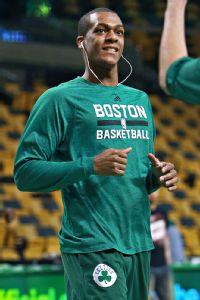 Jim Davis/The Boston Globe/Getty
With the Celtics owning the league's worst assist-to-turnover ratio, Rajon Rondo's return should provide a needed boost.With Rondo off the court since tearing his ACL in January 2013 -- or roughly 30,672,000 seconds using Rondo's recently unveiled cryptic time-display system -- Sullinger could be excused for forgetting the tip. During skeleton offensive work during Tuesday's practice session, Sullinger nearly ate some leather when Rondo unexpectedly zipped a pass his way.
"He's a special basketball player to get mentally prepared for," said Sullinger, who later added, "It kind of blew my mind because I didn't think he was going to pass it to me. … It was just kind of shocking that he threw it to me the way he did."
While Sullinger and his teammates played coy on Tuesday, and Rondo declined to chat about his Monday night tweet that hinted at a Friday return against the Los Angeles Lakers, the Celtics are readying for his impending presence. Sullinger is making sure his hands are up.
Rondo almost certainly will be an immediate help for the stumbling Celtics, losers of nine straight and 12 of 13, even as he shakes the rust from a yearlong absence. Boston ranks 24th in offensive rating, has the worst assist-to-turnover ratio in the league and is 24th in turnover percentage. The return of their floor general should provide the Celtics a needed offensive jolt.
The one challenge in Rondo's return is that it will alter a rotation that's been pretty firm for most of the season. Oh sure, first-year coach Brad Stevens has tinkered with lineups and rookies have seen some fluctuation in playing time, but Stevens has leaned on a 10-man core (recently swapping out Courtney Lee for Jerryd Bayless). Rondo will further crowd the backcourt, but the positives of his presence should far outweigh the negatives.
Even the guy who could be most affected by Rondo's return, Jordan Crawford, seems downright excited by the stress Rondo can take off his own game.