BOSTON -- Boston Celtics coach Brad Stevens spoke highly of Jordan Crawford and MarShon Brooks, the two players the team dealt away in a three-team swap Wednesday, but expressed excitement about the stockpile of draft picks his team is collecting while building toward a brighter future.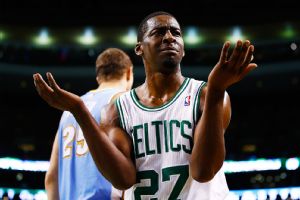 Jared Wickerham/Getty Images
Jordan Crawford was traded to the Golden State Warriors on Wednesday.The Celtics sent Crawford and Brooks to Miami, while taking back veteran center Joel Anthony and as many as three future draft picks. Boston now owns as many as 17 total picks over the next five drafts, including as many as 10 first-round selections (though lottery protections could lower that number).
"I love the idea that we're really looking with a vision to be as good as we can be for as long as we can be," said Brad Stevens. "I think we've got, not only with [the addition of] Anthony, but with all these picks that are just adding up and adding up and adding up, you're going to have a lot of flexibility moving forward."
The Celtics, losers of nine straight entering Wednesday's game against the Toronto Raptors, have not shied from the fact that this is a transition season, one that won't be graded on wins and losses. Boston coaches and players desire to win games, but the front office is also focused on collecting future assets and unclogging the payroll to offer greater flexibility this offseason and beyond.
Stevens clearly took pride in the growth of Crawford's game this season, the Celtics shaping him from a reserve chucker into a serviceable combo guard who won the Eastern Conference's Player of the Week award in early December.
"I appreciate all that Jordan and MarShon both did and, obviously, Jordan's growth has been well-documented," said Stevens. "I'm really happy for him from the standpoint that he continues to get better and better and better. I had a good talk with him, wished both of those guys well."
But the reality is that neither player was in the team's long-term future. Crawford would have been a restricted free agent, while Brooks couldn't crack this season's rotation and recently spent time in the D-League. Boston was able to turn them into at least two draft picks (and three if Philadelphia misses the playoffs in each of the next two seasons).
What's more, the impending return of point guard Rajon Rondo would have limited the available minutes in an already crowded backcourt, making Crawford and Brooks even more expendable. After the Celtics made their second trade in 10 days, and with more than a month remaining before the Feb. 20 trade deadline, understand this is part of the business for a transitioning team.
"It's the business of the NBA," said Jared Sullinger. "You have the court aspect, and you have the office aspect. Just part of the business and you get used to that."
Do the remaining Celtics players worry about their own futures here?
"No, I think these guys understand it's a business," said Sullinger. "And I'm pretty sure their agent is on top of everything -- that's why we pay them our 4 percent."
Like his coach, Sullinger wished the players well.
"I just want to wish those guys the best," said Sullinger. "Jordan really helped this basketball team with his playmaking ability. ... And MarShon was a great teammate. Those guys did so many things for this basketball team that really helped us out. I just wish them the best in everything they do."
Ultimately, the Celtics had to refocus on the task at hand and trying to end this losing streak.
"We're on a nine-game losing streak," said Gerald Wallace. "We have the guys that's here in the locker room and nobody can stop that but us so we've kind of got to figure that out and whatever happens happens."