WALTHAM, Mass. -- With every checkpoint in Rajon Rondo's ACL rehab, the buzz about his return has grown, escalating last month when he was cleared for full-contact workouts and reaching a crescendo this week with his tweet hinting at Friday's return to game action against the Los Angeles Lakers.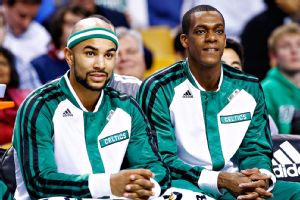 Jared Wickerham/Getty Images
Rajon Rondo will still see plenty of bench time as the Celtics ease him back into game action.Celtics coach Brad Stevens has been bombarded with questions about Rondo this week, but tired as he may be of navigating those, even Stevens admitted on the eve of Rondo's return that he's curious to see how it will impact his team.
"I'm intrigued to see how that all shakes itself out," Stevens said Thursday. "There was a great excitement level to our play [during Wednesday's win over the Toronto Raptors] just because we had a 10-guys-backs-against-the-wall type deal. But you also had the thing with Rajon possibly coming back Friday that added to that."
The Celtics snapped a nine-game losing streak on Wednesday, a game in which Rondo was activated and sat on the bench as a dress rehearsal for Friday's return.
"I think, obviously, the community is going to be really excited, as they should be, and our players will be really excited," Stevens said. "And I think it's appropriate for everyone to temper their expectations of him, especially early on in this comeback."
Ah yes, expectations. Celtics players and staffers have gone out of their way to temper those this week, reminding us we shouldn't expect the same player who averaged 13.7 points, 11.1 assists and 5.6 rebounds over 37.4 minutes per game last season before tearing his ACL in late January.
The Rondo that the Celtics will receive Friday will be on a minutes restriction designed to initially limit him to 18-20 minutes overall (and maybe just five minutes per quarter). The Celtics have taken things slow with Rondo to this point, and they don't plan to hit the accelerator just because he's getting back on the floor.
Danny Ainge did joke that Rondo will likely be trying to check himself into games in order to stretch out his minutes early on, but the team is looking at his return as simply the next step in his rehab process.