BOSTON -- If the Boston Celtics were hoping to give their newest additions a little anonymity during their first day on the job, they succeeded by bringing them on board the same day as Rajon Rondo made his 2013-14 season debut.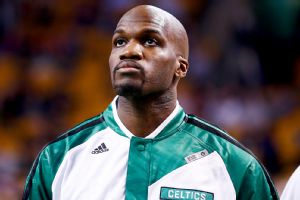 Jared Wickerham/Getty Images
Joel Anthony joined the Celtics on Friday night.Both veteran big man Joel Anthony, acquired from the Miami Heat as part of a three-team swap, and swingman Chris Johnson, signed to a 10-day contract out of the D-League on Friday, suited up for their first game with Boston on Friday night, but were mere spectators for Rondo's return in a loss to the Los Angeles Lakers.
Before Friday's tilt, coach Brad Stevens admitted the team hadn't had enough time to get either player up to speed and it was unlikely either would make an on-court debut until the team's upcoming three-game road trip.
For their part, Anthony and Johnson are excited for the opportunity here.
Anthony spent 6-plus seasons with the Heat, winning two consecutive NBA championships despite a diminishing role. He admitted it was tough leaving the only NBA home he's known, particularly while going from a title contender to a team in a rebuild, but said he'd make the most of this situation.
"I understand the business of how things work," said Anthony, a soft-spoken Montreal native, who took an open locker spot next to fellow Canadian Kelly Olynyk. "Obviously, you want to be able to stay for all that, but it's time to move on. Fortunately, I'm in a position where I'm going somewhere there's another opportunity for me. So I'm just looking to take advantage of that and continue on with my career."
Anthony, who started 51 of 64 appearances while playing 21.1 minutes per game during Miami's first title season in 2011-12, had played a mere 37 minutes over 12 appearances this season. Regarded for his interior defense and rebounding, the 6-foot-9 Anthony believes he can carve out a role in Boston, even on a team that's already got a surplus of undersized big men.
"Defensively, with my energy and shot-blocking, also my experience," said Anthony. "I've been in a lot of big games, seen a lot of different situations, and I feel my experience will be able to help out this ball club. Just looking to do those things that I do with a high motor and plenty of energy, 110 percent, and just take it from there."
Johnson is a 6-foot-6 swingman regarded for his energy. He appeared in eight games for the Memphis Grizzlies last season and spent training camp with the Brooklyn Nets in October. With Boston in need of wing depth after trading away MarShon Brooks and excusing Keith Bogans, Johnson could be an emergency option during his 10-day tryout.
"I'm fortunate, blessed to be here," said Johnson. "I'm just going to make the most of this situation. When my number is called, just be ready and provide energy, do all the little things to show that I belong here."
And what can he bring?
"Just provide energy. Do the little things that can help the team win -- rebound, defend, get on the floor and get 50-50 balls," he said. "Just do whatever it takes to win."
Johnson said he absorbed everything during his time with Memphis last season.
"I learned a lot, just the work ethic, how those players come in, how they work hard, not always speeding up the game," said Johnson. "It's a slower game in the NBA. Just picking their brains, because there's a lot of veterans in the league who've played for a long time. Just give me confidence and keep building on that."