Displaying some of his tantalizing-yet-fleeting aggression, Boston Celtics forward Jeff Green lived at the charity stripe in the second half of Sunday's 93-91 loss to the Orlando Magic.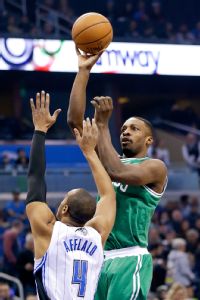 AP Photo/John Raoux
Jeff Green got to the free throw line 14 times in the second half against Orlando.It's been nearly 13 years since a Celtics player not named Paul Pierce took 15 free throws in a game, but Green reached that mark on Sunday. You'd have to go back to Antoine Walker on March 13, 2000 to find the last non-Pierce Celtic to reach 15 freebies in a regular-season game. In fact, since 1985, only seven Celtics players (Kevin McHale, Larry Bird, Rick Fox, Dee Brown, Todd Day, Walker and Pierce) had reached 15 free throw attempts in a regular-season game.
Making Green's effort all the more impressive was the fact that Boston as a team shot just three free throws in the first half (only one by Green) and the sixth-year forward got to the stripe 14 times after intermission.
Green finished with a team-high 22 points despite 4-of-11 shooting and made 13 of his 15 freebies. Alas, he missed one free throw that really hurt while trying to cap a three-point play after a layup off a beautiful inbounds feed from Gerald Wallace with 33 seconds to go. Instead, Orlando scrambled to corral the loose ball on the floor and called a timeout to retain possession in a tie game. At the other end, Tobias Harris drew a loose-ball foul on Kris Humphries and hit the two free throws that decided the game.
Green had the ball in his hands during Boston's final possession, but hesitated on a potential 3-point look then drew a crowd when he tried to drive. The Celtics never got off a final shot as the Magic escaped with the win.
A Celtics team that lost for the 14th time in 16 games routinely has been forced to look for silver linings during this stretch. They won't find many in this effort, a game in which Boston shot 36.7 percent and kicked away an 11-point first-half lead. Humphries had another energy-filled performance, rookie Kelly Olynyk seems to be making strides in his last couple of outings and Rajon Rondo had a decent night in his second game back from ACL surgery (six points, six rebounds, four assists, a steal, three turnovers over 21:20).
But what the Celtics should try to extract from this loss is Green's aggression. On a night where he was 1-for-7 outside of the paint, Green found success going hard to the basket and earning his way to the charity stripe. Green has the power and athleticism to get near the rim and, while shots might not always drop, he can create points through contact.
According to Synergy Sports data, Green leads the team by drawing shooting fouls on 12.3 percent of his total possessions. What's more, 13.9 percent of Green's possessions end with him at the free throw line (second best on the team behind only Brandon Bass at 14.2 percent).
Green easily leads the Celtics with 25 and-1s this season, nearly a third of the team's total (78). He's drawn a team-high 124 fouls, accounting for 22 percent of the team's total foul drawn. The next closest on the squad is Bass at 79 fouls drawn.
Sixteen times during his Boston tenure, Green has registered 8 or more free throw attempts in a game. In those games, he's averaged 20.9 points per contest. It's not hard to see the correlation between Green generating easy points at the line and more consistent output. Sunday's loss is exactly the sort of game that ought to remind Green of how important it is to have him consistently attacking the basket and the good things that tend to come out of it.
Green wasn't nearly aggressive enough on the glass (only three rebounds over 35 minutes), but he didn't turn the ball over and drew seven second-half fouls while attacking the basket. The Celtics didn't get the win, but Green's effort is something they can build off moving forward.