The Boston Celtics and Rajon Rondo talked this season about a contract extension, but that's just both sides performing their due diligence.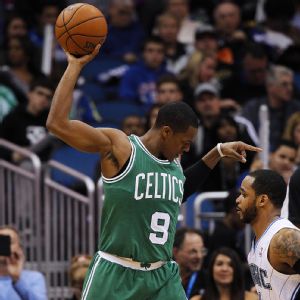 Kim Klement/USA TODAY Sports
Rajon Rondo may want to wait and see how the Celtics' rebuilding project goes before deciding whether to stay in Boston beyond next season.
Given the restrictive nature of the current collective bargaining agreement, it makes little sense for either side to consider an extension at the moment. Things should heat up this summer when Boston will have a better opportunity to lengthen Rondo's tenure here, all with the possibility of setting him up for an even bigger potential payday than what he could collect by riding out this current contract and immediately diving into the warm waters of unrestricted free agency.
Ainge, making his weekly appearance on Boston sports radio 98.5 the Sports Hub on Thursday, suggested that Rondo is open to the idea of an extension, but stressed it didn't really benefit him to do it this season.
"In the collective bargaining agreement, there are limits on what can and can't be done," said Ainge. "Really, it's not that Rondo doesn't want to accept an extension, as much as it's just not financially smart for him to accept it right now. We didn't think he would [sign], but we did try."
The limit that Ainge is referring to is the fact that veteran (non-rookie scale) extensions are limited to four years, including the seasons remaining on the current contract (and salary bumps are limited to 7.5 percent increases starting with that first season).
For both the Celtics and Rondo, adding two years to his already bargain deal doesn't do a whole lot for either side. It's a lot more attractive to both team and player to wait until this offseason.
This summer, Boston has two potential extension options for Rondo. The team can tack on a three-year, $44.8 million extension to the final year of his current deal without a signing bonus, which would pay him the scheduled $12.9 million in 2014-15, $13.9 million in 2015-16; $14.9 million in 2016-17; and $16 million in 2017-18. Or, if Boston can stomach a signing bonus payment of $6.6 million, those annual salaries would drop to $11.7 million, $12.5 million and $13.4 million in the extended seasons.
For Rondo, that could be an intriguing bit of short-term security, while also giving him a chance at another big-money deal after the 2017-18 campaign when he'd still be only 32 years old. A Bird Rights free agent with 10-plus years of experience, as Rondo would be at that point, can be paid up to 35 percent of the salary cap in a max-money deal, putting Rondo in position to command what would likely be as much as $22-plus million in Year 1 of that deal (though that certainly assumes he's able to maintain his health and level of play to that point).