The Boston Celtics are the last team to hold Kevin Durant under 30, but they won't get a chance to break his nine-game streak above that mark.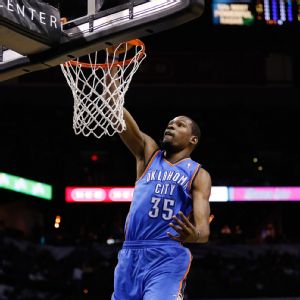 Soobum Im/USA TODAY Sports
Kevin Durant has scored at least 30 points in nine straight games, averaging 38.9 points over that stretch for the Thunder.Durant, who aggravated his shoulder during Wednesday's win against San Antonio, is out versus Boston and will be replaced by Perry Jones, Thunder coach Scott Brooks said prior to Friday's game in Boston.
"Kevin definitely loves the game," Brooks said. "He's not one that looks forward to missing games. The guy is a gamer. He loves to play.
"It's the best thing for him. Until he's ready to play, he's not going to play, regardless of how he feels or what he wants to do. It's a medical decision."
It will be the first time in Thunder history that both Durant and Russell Westbrook aren't in their lineup.
"I never looked at it that way," Brooks said of not having both stars for the first time. "I know we've always had guys that step up. We have a team that takes challenges every night. You never want to be without your players, not only us but the entire league. Regardless of if he's a starter or not a starter, you want your entire roster to give yourself the best chance. We have more than enough to compete. Old coach of mine [said]: 'All you need is five.'"
(Read more on Durant sitting out)
Asked before Durant was ruled out how his team might contain him, Celtics first-year coach Brad Stevens deadpanned, "I don't know." Turning more serious, he offered, "Bottom line is, all of us run actions that try to get guys an angle or an advantage, or get the defender behind somebody. You just have to get him the ball somewhere within the building and he can score. He can create his own, he can pass, he manufactures some incredibly tough shots. And he makes what would be a really tough shot for some people look pretty fluid and easy. He might be the best scorer in the world right now."
For the Celtics, Rajon Rondo is back in the starting lineup after sitting out Wednesday's game in Washington as a precaution on a back-to-back. Rondo is expected to play 20-25 minutes in a starting role. Gerald Wallace remains at shooting guard in place of injured Avery Bradley.