BOSTON -- Early in the second quarter of Friday's game, long before the Oklahoma City Thunder motored away for a 101-83 thumping of the Boston Celtics, there was a sequence that perfectly encapsulated Rajon Rondo's return to game action.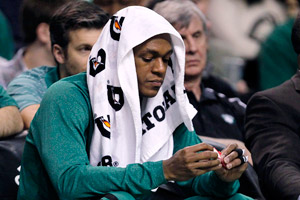 AP Photo/Charles Krupa
Rajon Rondo has to spend more time on the bench than he'd like as he eases back after ACL surgery.Grabbing a rebound in traffic, Rondo broke out in transition. He showcased some familiar speed as Thunder guards rushed back to plug up the lane. Rondo nearly lost the ball while attacking the paint, but audibled to a spin move that left Derek Fisher swiping at air, and put Rondo in position to deliver a layup.
But Rondo didn't have the usual explosiveness while leaping off his right leg inside the circle, and rookie Steven Adams, who was trailing the play, managed to block Rondo's shot from behind.
It was a tantalizing glimpse of what Rondo has been for much of his career, and a friendly reminder that he's still working his way back from major knee surgery.
Rondo finished with five points on 2-of-9 shooting with a game-high eight assists, two rebounds and three turnovers during 21 minutes, 43 seconds of action on Friday night at TD Garden. He was a minus-9 in plus/minus while Boston as a team watched a Kevin Durant/Russell Westbrook-less Thunder squad dominate the second half while motoring away in one of Boston's most lopsided losses at home in recent memory.
Rondo is not himself yet, and that's OK.
We've already been reminded not to expect playoff Game 7 Rondo. No, this is preseason Game 4 Rondo. And through those four games, Rondo is averaging 5 points, 5.3 assists, 3.3 rebounds, 1 steal and 2.5 turnovers over 22 minutes per game. He is minus-20 in that span and Boston is 0-4.
It's hard to get a fair read on Rondo's progress, given the minutes restriction he's enduring and the Celtics' lackluster play as a team.
After Friday's game, Rondo wasn't initially forthcoming on his progress, saying, "I'm getting there," but seeming unwilling to delve too deep into how he judges his progress or what exactly he's looking for from himself.
When pressed on his explosiveness, Rondo admitted it's not where he'd like it to be, but seemed to understand that it would be unrealistic to expect it to be at a high level this early in his return.
At the moment, his focus is more on the team.
"I try to lose myself within the team," said Rondo. "The plays I usually make, I'm not making right now. But I still feel positive and I'm OK with my progression right now."