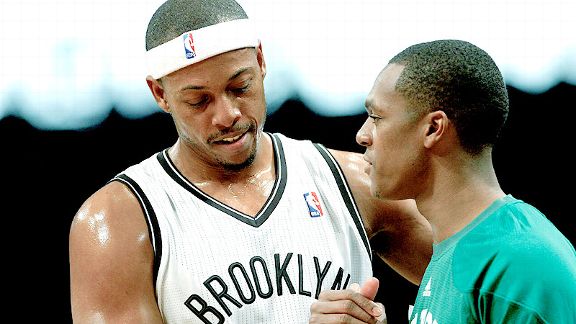 Noah K. Murray/USA TODAY Sports
Paul Pierce and Rajon Rondo exchanged preseason pleasantries in Brooklyn. Boston is another story.
During the heyday of the Boston Celtics' most recent Big Three era, there was a video clip of Larry Bird talking about Boston fans that used to run as players took the court for pregame warm-ups.
Kevin Garnett, already dripping with sweat and intensity while preparing for that night's game, would never look up at the video board (the only time he allowed himself that was when Gino was dancing away the final minutes of another lopsided victory), but Garnett heard every word spoken.
"It's funny, they have a little pregame thing they used to always [play]," Garnett explained. "I used to always hear Larry Bird. I would never look up, but I would hear it. Larry would say, 'You can't fool the people of Boston. They know when you're working hard, they know pure basketball.' And that's right. When you go all out, they understand that and they root for that, and that's what they remember."
On Sunday evening, 214 days after the Celtics and the Brooklyn Nets originally agreed to the blockbuster trade that ended the Boston tenure of Garnett and Paul Pierce, the two players return to TD Garden for the first time to play against their former team.
It's been suggested that the Celtics ought to hand out complimentary boxes of Kleenex as fans enter the building. We've been down this path before, with Boston fans having saluted the efforts of other recent heroes from the Big Three era and the 2008 title team. Boston fans roared for Eddie House, Glen Davis, Kendrick Perkins and even put rivalries aside when Ray Allen returned as a member of the Miami Heat.
In December, Doc Rivers was overcome with emotions when the team honored him after the first quarter of his first game back to Boston as coach of the Los Angeles Clippers. Rivers later noted his Boston return was as emotional as he gets, and he had to collect himself numerous times after the game while simply discussing the in-game tribute.
Now, Pierce and Garnett must endure the same.