BOSTON -- Ever the competitor, Kevin Garnett put a towel over his head while Boston Celtics fans roared with appreciation. He didn't want anyone to see him getting emotional.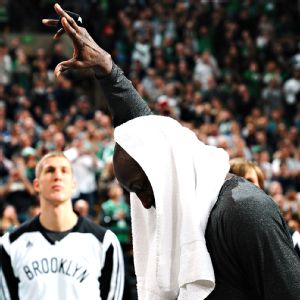 Steve Babineau/NBAE/Getty Images
Kevin Garnett hides his face while getting emotional as he's saluted by Celtics fans.For six months, Garnett knew the video tribute celebrating his six years in Boston was coming. But sitting in the unfamiliar confines of the visiting locker room at TD Garden, both Garnett and Paul Pierce had joked just a short time before about who would be the first to tear up. Garnett was sure it wouldn't be him.
But he felt the emotions surging, the lump forming in his throat. Garnett sought refuge in a white towel not nearly big enough to shield him.
Then came a much-needed save: The Bee Gee's "You Should Be Dancing," a song that served as the soundtrack for Garnett's beloved Gino, the dancer whose smooth moves highlighted an American Bandstand clip that rolled at the end of Boston's lopsided wins (of which there were many during Garnett's tenure).
Excitedly, Garnett looked back up at the video board to find a simple "Thank you, KG!" message, but the words were positioned around an image of KG pointing up at Gino on the JumboTron. The only thing a greedy Garnett could have asked for was to see a little bit of Gino's dancing.
"I had to compose myself before I looked back up, that's why I was kind of putting my head down, threw my towel on, but I thought Gino was going to get cracking," Garnett said with a big smile. "I should have asked [Rajon] Rondo [at dinner on Saturday night], 'Rondo, get them to throw some Gino up tomorrow.' It was all good."
Suggesting his return to Boston was tougher than his first trip back to Minnesota, where he started his NBA odyssey, Garnett detailed his ride on an emotional roller coaster while back at TD Garden on Sunday. But he stressed that, even without Gino, the video tribute and the fans' reaction exceeded even his wildest expectations for coming back.
"This was over the top," Garnett said. Later he added, "What comes to mind is unbelievable, I didn't expect anything like that for myself. It shows the first-class type of organization that this is and the appreciation from this organization for you. And I couldn't put it into words.
"Paul and I were joking before the game, who was going to tear up and drop a tear. I had lumps in my throat. I kept them under control and I focused as much as I could on the game and not take away from it. But, man, this was over the top. I couldn't put that into words."