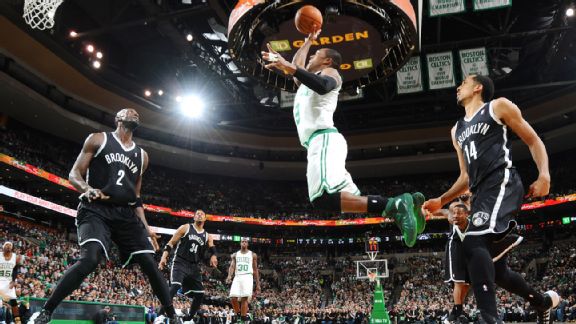 Steve Babineau/NBAE/Getty Images
Rajon Rondo skies to the basket during Sunday's game vs. Brooklyn.BOSTON -- Boston Celtics point guard Rajon Rondo logged a season-high 30 minutes, 21 seconds of floor time during Sunday's 85-79 loss to the Brooklyn Nets as he stretches out his activity in the early stages of his return from ACL surgery.
Rondo played the final 8:42 of Sunday's game, his longest shift in five games since returning on Jan. 17. Rondo flirted with a triple-double (13 points, 8 rebounds, 8 assists) and, while his night was far from perfect (5-of-14 shooting; 6 turnovers), he did aid a fourth-quarter rally that gave the Celtics a chance to tie the game in the final moments.
"I'm feeling better," said Rondo. "Adrenaline is the best thing going for me right now. I knew my minutes had increased a little bit. Coach [Brad Stevens] was well aware of my minutes. I tried to do the best I can to stay ready on the sideline when I went out."
Stevens said the uptick in minutes was by design as the team carefully monitors Rondo's on-court activity in the infancy of his return.
"I was told we were good to go to 30 minutes. That probably helps him get a better rhythm when he's in the game; those five-minute stints aren't that fun to play as a player," said Stevens. "You can never get a real flow or rhythm. But he played the last 8 minutes, 42 seconds and had pretty good wind most of the time. I still think he's Game 5 of the exhibition season, and I think he'll continue to get better."
Rondo remains open to the idea that the schedule and his body's ability to recover will dictate his minutes. Last week he sat out the second night of a back-to-back in Washington as a precautionary measure. The Celtics have another back-to-back this week, playing in New York on Tuesday before hosting Philadelphia on Wednesday.
"[His playing time] varies each night," Rondo said when asked if 30 minutes was the new benchmark for him. "There will be some good days and some bad. For the most part, I just want to make sure I take precaution and the next day is the most important thing. So [Monday], just getting back home and icing and keeping the swelling down and making sure everything is OK."
Through five games, Rondo is averaging 6.6 points, 5.8 assists, and 4.2 rebounds over 23.8 minutes per game.