BOSTON -- One day, an indeterminate amount of time down the road, the Boston Celtics will make No. 9 the ninth and final video tribute from the Big Three era.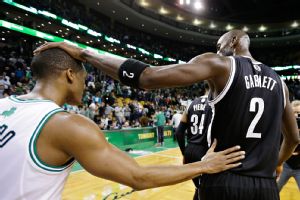 AP Photo/Steven Senne
The fondness between Rajon Rondo and Kevin Garnett was clear when the Nets visited the Celtics on Sunday night.Over the past four seasons, the Celtics have run eight tributes celebrating members of Boston's last championship team, culminating with the return of Kevin Garnett and Paul Pierce to a very dusty TD Garden on Sunday.
Eventually, it will be Rajon Rondo's turn, whether it's a year from now or 15. Rondo, who took the prestigious captain's torch during his return to game action earlier this month, said he doesn't really think about his legacy in Boston or how the Celtics fan will eventually remember him.
"Why should I? I'm 27. I have a long career ahead of me," said Rondo. "I don't think about it. I try to go out every night and play as hard as I can. Whatever happens, happens."
There are a lot of impossible-to-ignore similarities between Rondo's career progression and that of Pierce, who truly deserved Sunday night's tribute given the scope of his tenure here. As the Celtics pledge to make Rondo a cornerstone of the franchise while navigating this latest rebuild, you can't help but wonder if Rondo can endure the same transition that Pierce did, and not only mature like Pierce did but also bring championship basketball back again.
For their part, the old guard is doing their best to guide the new guard. The Nets arrived in Boston on Saturday night, and Garnett and Pierce used their largest chunk of free time to dine with Rondo.
What does the former captain think of the new one?
"I think he's ready now," said Pierce. "Rondo is mature, he understood what was coming. Before he had me and Kevin to lean on and now he's the guy. He's the captain, he is who everybody looks to for leadership and I think he's ready. He's grown, he's matured; He's seen the bottom, he's seen the top. He's got to understand that this is his team to lead through good and through bad. I think he understands that and he is ready for that role. And he's ready to deal with it."