Rajon Rondo believed he was unstoppable. For the most part, he had been. The fiery point guard had overcome injuries, including a gruesome dislocated elbow in the 2011 Eastern Conference semifinals against the Miami Heat, and became accustomed to sacrificing his body, only to bounce back and get up for more.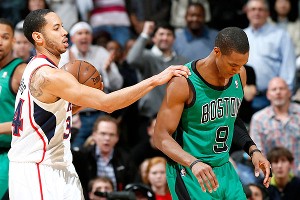 Kevin C. Cox/Getty Images
When Rajon Rondo tore his ACL against the Hawks on Jan. 25, 2013, a nearly year-long road to recovery began.He had likened himself to He-Man, an indestructible force with superhuman strengths who could outrun his opponents, slay the competition with his court vision and combat enemies with sneaky defensive maneuvers.
But on Jan. 25, 2013, he crossed paths with his own version of the villain Skeletor, a torn right ACL which he unknowingly suffered in a double-overtime game against the Atlanta Hawks. Two days later, an MRI struck the confident floor general with the harsh reality. He had been defeated for the season. Little did he know at the time, he was about to embark on a nearly year-long quest that would challenge him in ways he had never experienced on the court and give him a new perspective on the game that he had been able to dominate with his battle-tested powers.
"I felt like I was He-Man," Rondo said following practice on Saturday, one year to the day of his injury. "I took longer than I wanted to, but I wanted to do the right thing. I'm not trying to rush to get back to do a contract or trying to rush to prove anything. You only get one opportunity for a shot at this so I don't want to rush back to mess up something else that could go wrong."
For the first six seasons of his career, Rondo had distinguished himself as one of the top point guards in the NBA by doing virtually whatever he wanted, whenever he wanted. His high basketball IQ overshadowed his offensive limitations, and his mind drove the game -- and the Boston Celtics.
Three months into his seventh season, he was faced with a situation he couldn't dribble or pass his way out of. The MRI came prior to a highly anticipated game against the Heat. Rondo was on pace for another All-Star campaign, averaging 13.7 points, 11.1 assists and 1.8 steals per game while improving his field goal percentage to 48.4 percent. At that point he had recorded five triple-doubles in 38 games, more than anyone else achieved the entire season.
"I wanted to play against the Heat that day. I wanted to play, period," Rondo said. "I thought I was in a good rhythm. I think I had two triple-doubles the two games prior, so I felt like I was in a good groove. I felt like I almost mastered a triple-double at that time. I knew how to get them and still win games. Even though we lost that Atlanta game, I played through an ACL injury and I took a lot of credit for that game, but I didn't know I had a torn ACL."